Launched just a few months back, the Gatekeeper App, is making Residential Complexes more secure and Security gates function more efficiently, by digitizing and bringing the Security Gate Online! Today its a major hit among Apartment Complexes, being successfully deployed in more than 100 apartment and villa complexes across India.
No other Security App in India can boast of such wide spread acceptance and successful implementation across all major Indian cities.
Here's a few Apartment Complexes who shared their stories/photos with us:
1. My Home Jewels, Hyderabad (Residential Complex with 2016 Apartments)
One of the largest Apartment Complexes in Hyderabad, is all set to go live with Gatekeeper App. Being a large apartment complex, My Home Jewels was facing acute problems with their security; lack of trackability of visitor information, long queues at gates in occasions being some of the major problems they were facing.
2. Prestige Kensington Gardens, Bangalore (Complex with 420 Apartments)
Prestige Kensington has been one of the first forward thinking apartments who implemented Gatekeeper and has been successfully using the solution since. The testimonial we received from the Moderator of the Apartment, Mr. Mainak Bandopadhyay speaks for itself.
"The App is easy to use and operated by our security staff. They could learn to use it without any training. Residents are now getting notified about any visitors to their apartments. The record of visitors with entry and exit times along with vehicle details is also available for everyone to see. We also record staff entry exit using ADDA Gatekeeper. Now our Property Manager has complete visibility about number of visitors and staff inside the complex in real time.

We have now replaced manual entry at main gate with ADDA Gatekeeper App. I recommend other apartment complexes to try out this App."
3. Palm Greens, Ahmedabad (Complex with 288 Apartments)
Palm Greens has been another early adopter of the Gatekeeper App. Mr. CA Vinod Kumar, Secretary of Palm Greens says:
"It was an incredible experience, with help of great customer service, we launched ADDA Gatekeeper quickly, and now with this App entire society security is digital and there are no more manual records. ADDA Gatekeeper App really helps the society in tracking the visitors with image and provides safety as well for future tracking in case any incident occurs. Thanks for this great app and best part is that it works offline also. Digital India – Digital Society"
4. ETA Star (The Gardens), Bangalore (Complex with 937 Apartments)
One of the landmark Apartment Complexes of North Bangalore has successfully implemented Gatekeeper and have got their security gate online!
5. Sumadhura Sandoval, Bangalore (Complex with 145 Apartments)
Sumadhura Sandoval has recently adopted Gatekeeper and has taken their Security gate online!
6. Mahaveer Tuscan, Bangalore (Complex with 280 Apartments)
7. Carlton Estates, Gurgaon (Complex with 491 Apartments)
From Carlton Estates, one of the early adopters of Gatekeeper App from Gurgaon, we received this note saying:
"Gatekeeper provides complete transparency in Visitor Management and helps identify unruly visitors through its bio-metric identification"
How to get started?
Gatekeeper is available on Google Play store and is compatible with all smartphones and tablets running on latest Android OS. Its so easy to implement that you can just download the App and just start using it! Read our blog on how you can quickly start implementing gatekeeper with 5 steps.
In case you need any help, please contact us from here.
The Gatekeeper Kit
It's not only the App. As a part of our commitment to making Gatekeeper a success for your Apartment Complex, we provide you a complete package which includes:
Samsung/Asus or equivalent tab running latest Android OS (configured for use of Gatekeeper). In case you want to procure your own tab, you can do that too.
A reference manual poster for Security Guards. This poster also ensures that you do not have train your security guards again and again.
A poster for your security gate informing all visitors and residents that your security gate is online. It also asks your residents to enter their expected visitors from ADDA App so that your security can quickly check in Expected Visitors.
A sticker for your tab/smartphone, just so that you give your visitors another reason to Smile!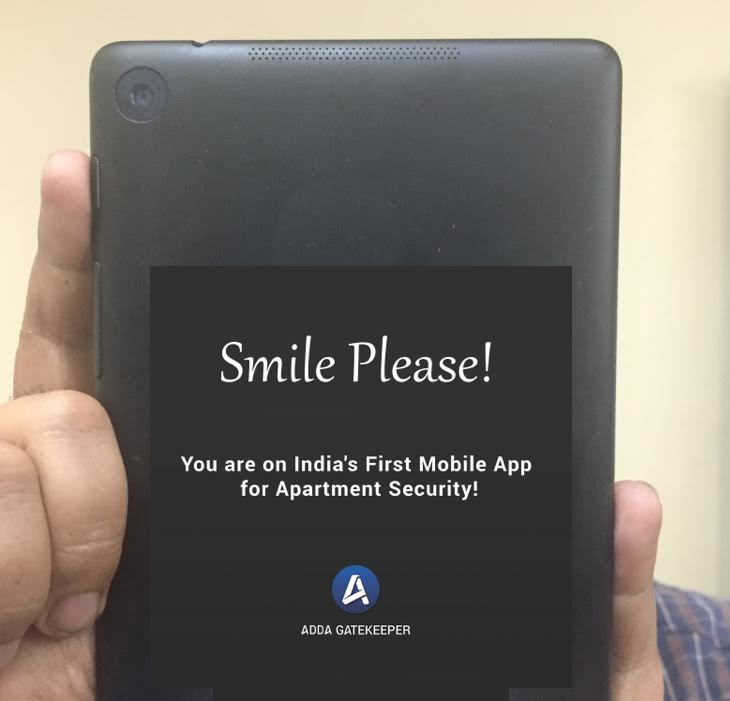 Login to your ADDA now and share this article with your neighbors. If you are not a part of your apartment's ADDA yet, then join now! It's Easy! Visit www.adda.io, or download the app from here, search for your apartment and join!