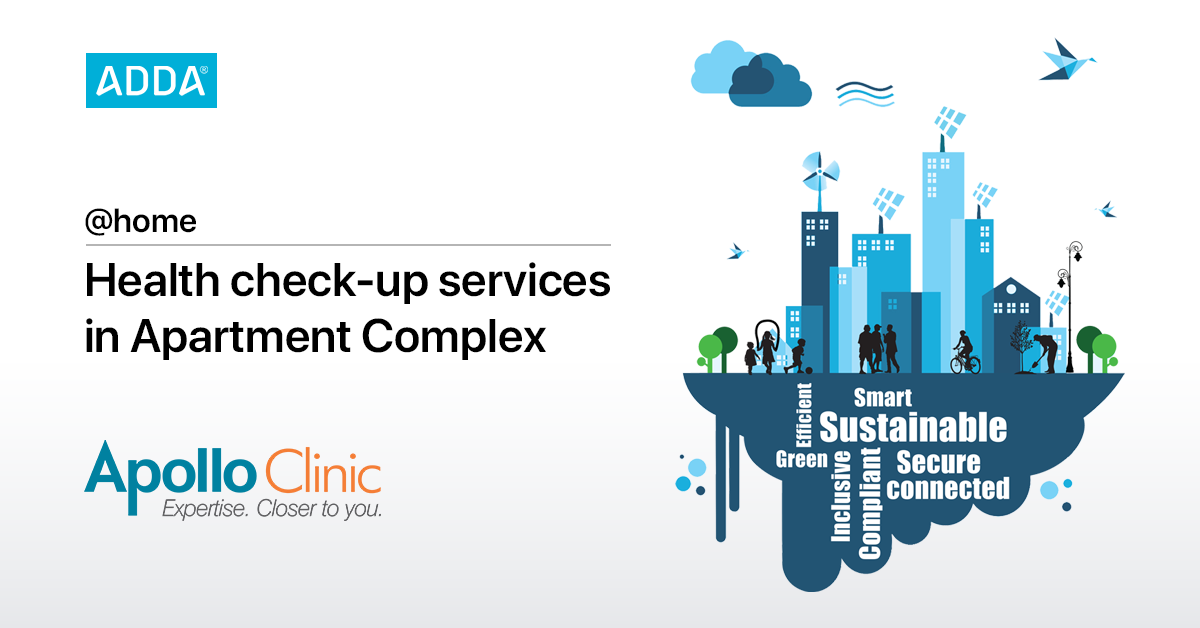 Neighborhoods of Tomorrow 2018, a unique workshop for Apartment Complex Residents and Management Committees was hosted and organised by ADDA on 8th September 2018 at Royal Orchid Hotel Bangalore. It was a gathering of management committees, subject matter experts and city administration who discussed solutions to various community problems.
There was also an award ceremony for management committee members who have implemented several initiatives for the improvement of their residential communities. One of the events' main sponsor, Apollo clinic have come up with an inventive home health care services which deserve a special mention.
The company has started a service called @home where they are offering health tests and checkups to residents of Apartment Complexes in the comfort of their home. The service includes a wide range of tests starting from basic health checkups and liver function test to advanced Diabetic screening.
Why Apollo Clinics
Apollo has emerged as Asia's leading integrated healthcare provider and has a strong presence across the extensive healthcare ecosystem. Apollo Clinics, the multi-specialty clinics run by Apollo Health & Lifestyle Limited work towards bringing healthcare of international standards within the proximity of every individual. Apollo Clinic is committed to providing consistently top-of-the-line health care services to attend to the day-to-day health care needs of the family. The keystones of Apollo Clinic are its state-of-the-art technology, advanced research, cost-effective services, clinical excellence, and top-quality home care.
Services offered @home by Apollo Clinic
Apollo Clinic successfully combines medical treatment with home care to provide you with the best treatment in the comfort of your home. It provides efficient care at home by supplementing clinical diagnostic and treatment procedures with a wide range of home health care services. At Apollo Clinic home-health care, we offer the following services:
Women's Pack- Vitamin D count, lipid profile, complete urine examination, serum calcium, and complete blood count.

Whole Body Pack- A comprehensive home health care package encompassing a wide range of tests.

Senior Citizen (Male)- Liver function test, complete blood count, total cholesterol, and kidney function.

Senior Citizen (Female)- Liver function test, complete blood count, total cholesterol, and kidney function.

Healthy Body Package- Haemoglobin, fasting blood sugar, total cholesterol, and other essential tests.

Diabetic Screen Basic

Diabetic Screen Advanced
Hygiene factors @home service
Hygiene is the first step to good health. Apollo Clinic home-healthcare providers focus on maintaining proper hygiene and averting infections at-home service in order to prevent healthcare-associated infections (HAI's). Our healthcare providers:
Wash their hands before and after a procedure

Wear sterile gloves to prevent the spread of dangerous bacteria.

Use a new device for each procedure.

Dispose of contaminated materials immediately and safely.

Clean any urine, blood etc spillage.
So now, just in case you need a health checkup right in the comfort of your home, you know where to go!