As a part of the 2016 chapter of the RISE HIGH awards (India's only award recognizing Apartment Community Initiatives), more than 200 entries came in from across India, among them 35 was shortlisted. The winner was to Blue Ridge, Pune. The first runner up was The Imperial, Mumbai, India's highest residential towers. The second runner up was Palm Greens, Ahmedabad.
The Rise High Chronicles are a set of blogs in which we are proudly write about the various awesome neighbourhood initiatives implemented by the housing societies who send in their entries for the Rise High Award. It gives us a lot of gratification when the change makers in these apartment complexes tell us that ADDA was a help in their journey towards  getting their community together and making their neighbourhood a great place to live in!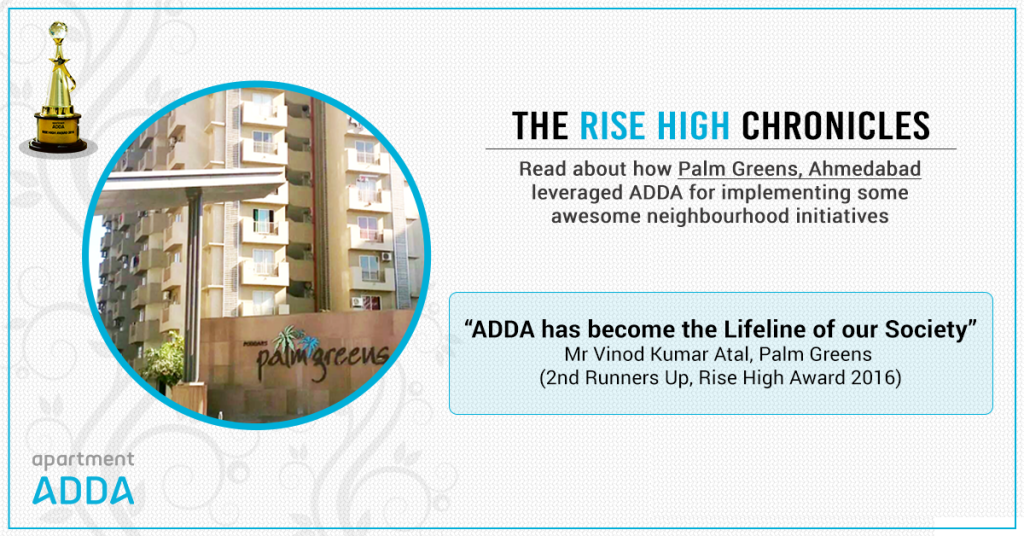 "Builder makes the High Rise.
The Community makes it Rise High.."
These words and our motto "Rise High" is exemplified by the awesome initiatives being conducted by Residents and Management Committee members of Palm Greens.
Palm Greens Neighbourhood Initiatives:
1) Domestic Staff Welfare
The Management Committee in Palm Greens, ensures that all the staff members, security, housekeeping personal, domestic helpers, car washing personal get enrolled for PM Insurance Scheme (PMJJY) & Atal Pension Yojana. These schemes set up by the government are very beneficial for the poor and also provides them with social security in case of any emergencies. In many cases the members of the Society pay the premium for the first instalment of the schemes.
"These schemes are great initiatives by government and we participated by including our staff in these schemes. They are the people who can really benefit from these schemes.", said Mr CA Vinod Kumar Atal, Moderator of Palm Greens ADDA.
Regarding how ADDA played a role in implementing these initiatives, Mr. Vinod Kumar added,
"ADDA portal helped us in communicating all messages to residents. This is a great tool for building inclusive neighbourhoods and also including the people in all initiatives."
2) Getting the Neighbourhood Connected through a Common Platform and bringing in Transparency in Society Management
Shortly after al the residents moved in after builder handover, the Management Committee took up the initiative of connecting all residents through a common platform. In a short span email ids & mobile numbers of all residents were collected and they started uploading them to a central system, ADDA.
With implementation of ADDA, all residents got connected, also apartment management has become much easier, all the accounting is real time and fully transparent. There are automated weekly reports sent to all stakeholders, so there is no chance of any corruption.
"Many of our members residing abroad are very happy. They told us that they do not have this kind of society digitalization in their countries of residence which can get all residents connected within such a short time. Truely helping towards 'Ram Rajya' in society management and fulfilling the dream of our PM of developing smart cities," says Mr. Vinod Kumar.
Regarding how ADDA played a role in implementing these initiatives, Mr. Vinod Kumar added,
"ADDA is a great tool for digitalisation. It helped us in every thing we do, it gave us transparency and took us ahead towards building a corruption free society. ADDA has become the life line of all members."
3) Paperless Community
With use of an online portal (ADDA) for all communications and management, Palm Greens has gone totally paperless building an environmentally conscious society.
4) Building a Socially Responsible Community
When the residents moved into the Apartment two years back most of them did not have voter ID cards. Most of the residents had migrated from various parts of the country. Mr Vinod took personal interest, got photocopies of voter ID registration forms, distributed to all 288 flats and got the form filled from all the members. For various queries related to cancellation of old card or providing affidavit visitied collector's office, ensured submission of all the forms to BLO and finally got all residents registered for voter ID (300+ numbers). All the members, local MLA, Mayor, BLO appreciated the work done by Mr Vinod and the Management Committee, for strengthening the Indian democracy.
Regarding how ADDA played a role in getting the Vote Ids registered for all residents, Mr Vinod Kumar added,
"It is a powerful tool for communication and follow up. Without ADDA it was impossible for me to get all residents registered."
 5) Enhancing security in the Apartment Complex
There are various benefits that the Gujarat government is providing to Societies. One such scheme is Project Trinetra. According to this scheme housing societies can avail subsidies for implementing CCTV cameras in their complex. This scheme was started by Gujarat Government to make neighbourhoods more secure. Within 12 months post builder handover, Palm Greens Society got CCTV cameras installed for the security of the society and also availed the 30% subsidy provided by Gujarat Government.
6) Initiatives Outside the Gate
The area around Palm Greens Apartment did not have proper roads or street lighting after residents moved in after handover from builder.
"With my continuous follow up (with Mayor, MLA, Corporators) almost 3 kilometers area around the apartment complex got new roads, got many LED street lights and benches, which all made the neighbourhood a much better place and also provided safety for the  neighbouring societies and residents." said, Mr. Vinod Kumar.
Regarding how ADDA helped in implementation of all these initiatives, Mr Vinod Kumar added,
"ADDA helped us in communicating the initiatives taken by us to the residents. The residents also gets motivated and helps out. Also when the residents appreciate the initiatives by us, it also motivates us."
All forward thinking housing societies have an ADDA. ADDA is the essential app for every apartment resident and an indispensable tool for the Management Committee / Resident Welfare Association members for managing an Apartment and carrying out various Neighbourhood Initiatives!
If you are not a part of your apartment's ADDA yet, then join now! It's Easy! Visit www.apartmentadda.com, or download the app from here, search for your apartment and join!
If your Apartment complex / housing society is still not online on ADDA, you can create one absolutely free on www.apartmentadda.com.