Aaanddd we're back with yet another "Top 10" post. This time, it's not just about one aspect of a building, but a collection of aspects that make it one of the unique residential buildings. Hmm.. So how did we decide between the uniqueness quotient of two buildings? Simple – Popular opinion.
We scourged the Internet and unsurprisingly, we found many, many lists for top 10 most unique residential buildings. Since, uniqueness cannot be measured per se and since creativity and appeal change from person to person, we decided to put together a list of buildings that people accepted all over the world.
So based on popular vote,
Here is our list of top 10 most unique residential buildings from around the world :
#1 – The Interlace, Singapore
At no.1 we have the stunning, massive, 1000-unit building named The Interlace from Singapore. To describe the structure of this beauty in mere words is difficult. To put it crudely, the structure looks like around 30 bricks roughly piled over each other with gaps in between. What's special and aesthetic about it you ask? Well, the unique hexagonal structure ensures that each unit gets a wide viewing space and that wind/ventilation is equally received across each unit in the building. The structure has six block (which looks like a brick, as we said before) is stacked above each other and each unit in all 6 of these blocks overlook the many parks and aesthetic views that surround the property.
This building is also the winner of the 2015 World Building of the year. The design and concept were done by OMA & Ole Scheeren and its construction was completed in 2013. The Interlace is 24 floors tall and has a floor space of 170,000 square meters.
#2 – Cayan Tower, Dubai, UAE
The Cayan Tower was previously featured on our list of top 10 tallest residential buildings from around the world, so you must be familiar with it. The Cayan Tower, previously called as the Infinity Tower (thank God that name was dropped. There are 100 infinity towers around the world) is a 73-story, supertall skyscraper from the magnificent city of Dubai. Its iconic helical structure is much discussed around the world and even attracts quite a bit of tourists. On its opening, the Cayan Tower become the tallest high-rise residential building with a 90-degrees twist.
The structure is designed by the firm name Skidmore, Owings & Merill SOM Architectural Group and was developed by the Cayan Real Estate Company. The building opened in 2013 and has a total of 73 floors of which 5 are underground making it one of the unique residential buildings.
#3 – HSB Turning Torso, Sweden
Often described as "neo-futuristic", the HSB Turning Torso is one of Sweden's most popular structures. The Turning Torso is also touted as the first twisted structure in the world, so we guess it was an inspiration of sorts for the Cayan Tower. This building is also the tallest in all of Scandinavia. Research says that this building was inspired by a sculpture called "Twisting tower".
The HSB Turning Torso has a total of 54 floors and a built up area of 27,500 square meters. The building was designed by architect Santiago Calatrava and is owned by HSB Sweden.
#4 – Reversible Destiny Lofts, Japan
This is a complex of apartments in Mitaka, Tokyo and is said to be built in memory of Helen Keller. The structure primarily has units in three shapes – cube, sphere, tube and are arranged out in stacks. Since they are lofts, each units are primitive in their structure and has a kitchen and a few rooms. What stands out in the first glance is the structure's color or rather colors. The entire structure looks as though it is put together from children's toys. Brightly colored (on the inside as well) and uniquely shaped.
The building was designed by husband-wife architect duo Arakawa and Gins, who are also poets on the side. Their belief that good and stimulating architecture could prolong life is what lead them to come up with this unique rental loft.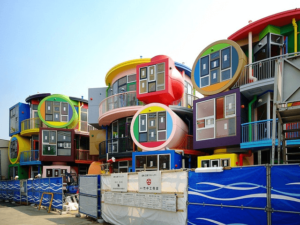 #5 – VM Apartments, Copenhagen
This is a building that had some haters because of it's very, very unusual structure. The VM apartments is a residential structure in Copenhagen, Denmark which is characterised by two adjacent towers, named the V house and the M house respectively. Each building has structures that jut out from each unit in the shape of alphabets V & M, depending on whether they are in the V or M house. This structure that juts out is typically an enclose balcony of sorts, giving the residents some viewing space/ recreational area. In first glance, the building looks as though it has spikes all over it.
The building was designed by JDS Architects & Bjarke Ingels Group. The M House roughly has around 95 units and the V house has 114. The building opened in 2004 and in 2006, it won the Forum AID Award for the "Best Building in Scandinavia".
#6 – Container City 1 & 2, London
Container city is a housing colony in East London that has residential units constructed out of shipping containers as part of the Urban Space Management scheme. The idea behind this was to come up with affordable and flexible housing and office arrangements at budget prices. City 1 completed installation in 2001 and City 2 in 2002. Most of the units are comparable with studio units, low on aesthetics and space yet high on functionality.
This arrangement later led to the development of many such similar projects all of which used shipping containers for modular, stylish yet budget friendly office/residential spaces.
#7 – One Madison, New York
One Madison is a very popular luxury residential apartment in the Manhattan region of New York. When it was first announced, the One Madison was supposed to be 47 floors high and was to be named The Saya. Today, the structure has 50 floors and was renamed as One Madison post completion of the construction.
Currently, the building has 53 residential units in addition to a penthouse with an attached terrace. The total floor space of the building is expected to be around 16,763 square meters. One Madison was designed by Cetra/Ruddy and is owned by a consortium of creditors.
#8 – De Rotterdam, Netherlands
A very popular residential building in Rotterdam, this structure has garnered quite a bit of praise for its highly unique structure. The structure has three towers, interconnected with each other. Each tower share a similar glass base for the first 30 feet housing the structure's 6 floors. The upper portions are slightly shifted away from each to enhance wind stability. When viewed from a moving vehicle, the structures of this building would appear to rise and merge and then separate again, giving it a very distinct appearance.
The building has a total of 44 storeys, which houses roughly 250 residential units. The floor space is estimated to be about 160,000 square meters. De Rotterdam was designed by Rem Koolhaas.
#9 – The Wave in Vejle
Yet another architectural marvel from Denmark is The Wave building in Vejle. Inspired by Sydney's Opera House, the building lives upto its name and resembles an actual wave. This residential building is considered as an uber luxurious property and has been repeatedly called a groundbreaking architectural piece in today's times.
The building was designed by Henning Larsen Architects and has 115 residential units housed within. The total floor space of The Wave is expected to be about 14,000 square meters.
#10 – Habitat 67, Canada
The final candidate on this list (no less unique than the others listed here) is the Habitat 67 in Montreal. This building is considered as one of the architectural marvels in Canada and it's design was originally conceived as it's architect's thesis for his masters. It roughly resembles the first building on the list, in the sense that the two look like interlocked bricks or blocks stacked upon each other. Habitat 67 comprises of 354 concrete blocks arranged one on top of each other in various angles. Each residential unit in this building features a private terrace and a splendid view of the neighborhood.
Habitat 67 was designed by Moshe Safdie and has 146 residential units with it. The building is at 12 floors high at it's highest point putting it in this list of unique residential buildings.
Like Art, Architecture Has No Barriers!
Looking at some of the entries in this list, we're forced to believe that art can exist in a multitude of forms. Just look at The Wave, would anyone have imagined that an actual building could look like a wave in an ocean or consider the De Rotterdam – it makes the onlooker feel as though the building is moving and merging!
So there you go! This was our list of most unique residential complexes from around the world. If you have any interesting suggestions, do let us know in the comments below. Don't forget to follow us for more.