Neighborhoods of Tomorrow, a unique workshop for Apartment Complex Residents and Management Committees was hosted and organized by ADDA on 8th September 2018 at Royal Orchid Hotel Bangalore. With over 300 footfalls and 10 Experts speaking on several topics the event was a roaring success. Sustainable Landscaping for Community Gardens was one of the hottest topics discussed on that day. The discussion included a panel of experts comprising of Krishna Kumar, Savita Hiremath, Meera and Vijay Nishanth.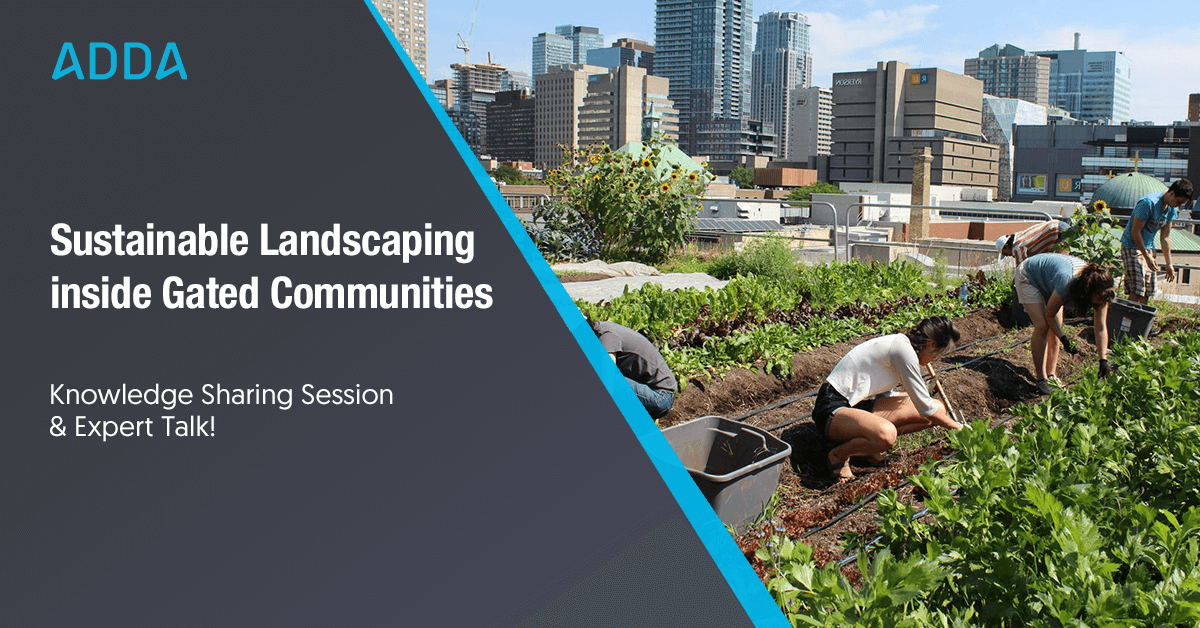 What is Sustainable Landscaping?
As per the "Webster's" definition – Sustainable Landscaping comprises numerous practices that address environmental issues related to the design, construction, implementation, and management of residential and commercial landscapes. However, in Layman's Terms, it's actually the preservation of existing resources and a strategic approach with a purpose of offsetting negative environmental impacts.
Some of the Sustainability issues for landscaping include Global Climate Change, Air Pollution, Water Pollution, Pesticide Poisoning, and High Energy Usage. The most prevalent ways that are being used right now to counter the above issues are quite unsustainable and has multiple negative impacts on the ecosystem. Right from severe degradation of the surrounding ecosystem, chemical pollutants in drinking water, deterioration of health owing to toxic fertilizers to increase in pollution, the negative effects on the environment are far and wide.
The Need for Sustainable Landscaping in Apartment Complex
Even though the Gated Communities in urban areas focus on landscaping inside the complex, but to be fair these are done only to enhance the aesthetic appeal of the property. Not only they do not serve any purpose but also are actually detrimental to the community's environment.
Firstly, the lawns are extremely pesticide and water intensive and Phorte, which in fact is a very toxic material is the minimum requirement is used for maintenance. Not only the gardeners, who are the most affected by this, but also the children and adult residents who frequent these areas.
The other reason is that the lawns inside these apartment complexes are quite huge so there is a lot of ground area available. Rather than using them only for aesthetic beauty, the residents can actually utilize them for their own benefits, such as growing vegetables and fruits in small scale. Recently, there has been a lot of hubbub in Bangalore regarding organic farming and terrace gardening in events organized by Oota From Your Thota and can be a nice place to start off with.
Sustainable Landscaping in Apartment Complex – The Solution
With the high pace of urbanization in the bigger cities, the building of new housing societies and a massive influx of people migrating to these places, space is in premium these days. Therefore, sustainable landscaping inside apartment complexes is an absolute necessity these days rather than a luxury. At the Neighborhoods of Tomorrow, 2018 workshop our core expert panel came up with some wonderful ideas on how to counter the problem and solve in the most environment-friendly way.
1. Change in the Mindset of the Residents: No noble deed in the world ever has begun without a fair amount of brickbats thrown in its way and this case is no exception! There are always roughly 5-10% of people in a community who excel at the brickbat throwing exercise and perhaps the only way to convince them is to be successful in the first try-out. Most of the residents do not realize that the pesticides sprayed in the lawns is actually the catalyst to several health problems and creating organic fertilizers from composting is actually a lot more beneficial and cost-effective.
Savita Hiremath, the core member of SWMRT and our expert on the topic shared her personal experience where she was a victim of the orthodox mentality of some of her neighbors. Some of the households in her complex complained vigorously about the smell when she was creating organic compost for organic farming. But, within a few months, when the leaves started turning to beautiful green just by sprinkling compost on the plants, everyone was convinced – therefore sealing the argument that the mindset of the people is the most difficult challenge for any initiative.
2. Horticulture instead of Gardening: Horticulture is a more scientific approach to gardening and cultivation and does require more care. However, if done properly, the results can be magical not only because of healthier home-grown vegetables but also the evolving biodiversity from different species of plants. Even if it is in a small area of the community, it could be the long lost Garden of Eden for the kids growing up in the society.
3. Organic Farming in Planter Boxes: Planter Boxes are one of the best ways to organic farming because these do not get affected by the harmful chemicals used in conventional landscaping. Since they blend well with the surrounding areas, the aesthetics are taken well care of. Residents can grow almost any plants in these Planter Boxes both in and outside their apartments.
Sustainable Landscaping in Apartments is a Wise Choice for Builders
There is a commercial beauty attached to landscaping in Gated Communities for both the investors and builders. In the recent times, focus on the extended indoor living is more emphasized and therefore a property comprising with better amenities attracts more value from investors. Instead of creating landscapes with meaninglessly large lawns and palm trees – it could be a mix of trees, herbs, shrubs, vegetation, and walkways, thereby creating more aesthetically beautiful and beneficial landscapes.
The problem is that, even though the builders invest on the best quality of tools to set up the structure, perhaps better research is required on their end on choosing the correct plants thereby adding biodiversity to the housing complex. That way not only it will pay more dividends from the investors in near future but also can bump up the pricing of a property by 10-12%, as suggested by Real Estate Professionals.
As shared at the Neighborhoods of Tomorrow Workshop by Vijay Nishanth, this process is already underway by the prestigious Brigade Builders. Brigade and Vijay are working in a collaboration to build their infrastructure around the large trees and create a mini urban forest inside the community.
The Esteemed Panel of Experts on Sustainable Landscaping
Mr. Krishna Kumar: An Expert conducting experiential workshops on Composting & Home Gardening, enabling households effectively handle the waste generated and grow their own food.
Mr. Vijay Nishanth: Also known as Tree Doctor, pioneered tree mapping for India under project Vruksha foundation from Bangalore. He has been awarded World green infrastructure Congress award (international recognition) this year as one of the key contributors for India towards sustainability and also won Asamanya Kannadiga award given by Kannada Prabha and Suvarna news channel.  
Ms. Savita Hiremath: Core member of Solid Waste Management Roundtable (SWMRT) which is an organization focusing on waste management in Bangalore.
Ms. Meera: Chief Editor of popular Bangalore based webzine, Citizen Matters.