It's August 2, 2019. The 73rd Independence Day of India is just round the corner. Housing society and apartment complex management committees are perhaps already feeling the pressure to come up with a jolly good plan for Independence Day Celebration.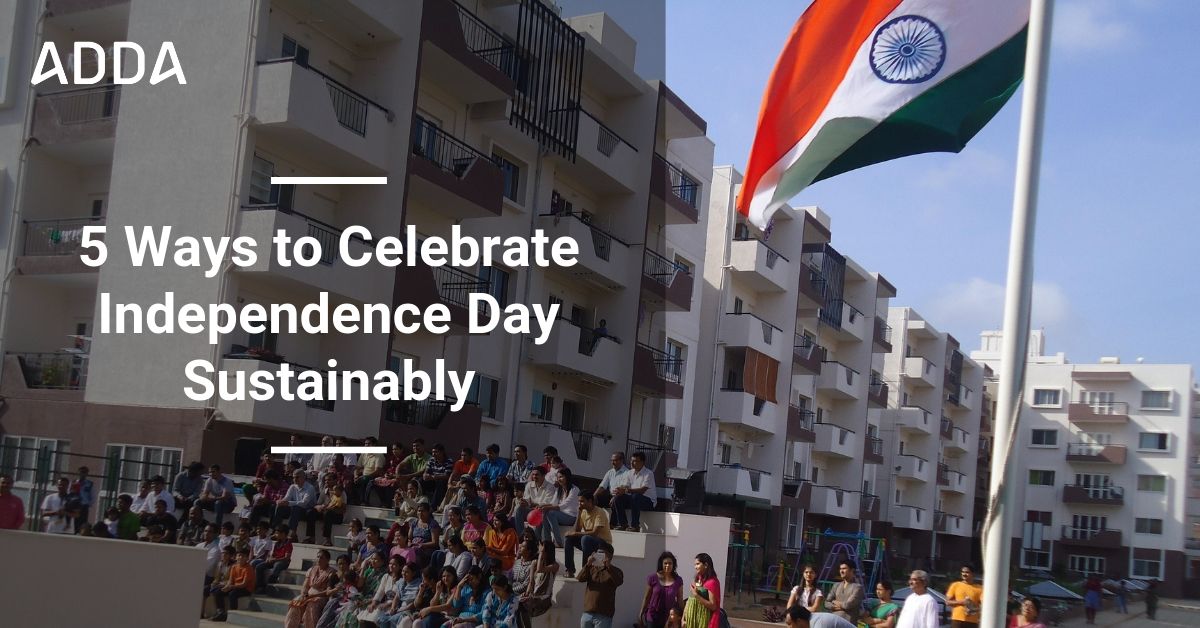 However, this Independence Day is not the same as every year. Even though this day is aimed at commemorating the spirit of freedom, let it inspire us to think about what freedom means for us in 2019. Independence Day is not about joyous revelries alone. It is also about honouring the legacy of the martyrs and the freedom fighters who fought for our basic rights as a human being.
This year, we are at a similar junction in our lives where we seek Independence. With the Chennai Water Crisis breaking over us like a landslide, the recurrent Assam Floods, the loss of our forests and wildlife, the degrading quality of air in our cities should encourage us to think if at all we are upholding the dreams of our freedom fighters. Let this Independence Day be the beginning of a new kind of freedom in our societies. As a symbol of pledge, housing societies around the country can ensure to organise a zero waste sustainable Independence Day Celebration in and around their premises.
Be The Trash Hero
Prior to August 15, identify a spot near your housing society where a clean up has been long overdue. It can be a park, a lake side, a favourite dumping ground in the corner of the road, or even your own premises. Organise a competition – the person collecting the most trash in the shortest time wins. Exercise caution while handling the trash. Ensure to use gloves and masks while going through them. You can even provide a spin by segregating the waste and connecting to relevant vendors to ensure the trash does not go to the landfill. 
However, do not just stop there. As a community, you have the right and the duty to ensure the spot you cleaned up, remains clean. Educate other community members, whether or not they are your immediate neighbours, about the need to ensure sustainable cleanliness. 
This Independence Day, declare freedom from unwise waste disposal in and around your community. 
Craft Time
We all have tonnes of materials lying around in the house which we do not use anymore. They clutter our homes and disuse eventually puts them in the dustbins. The foremost philosophy to manage waste is to reduce it. Collect such recyclable materials from your units. Amazon boxes, bubble wraps, pieces of cloth, old pencil cases, unused photo frames are some of the items which are very easily available in practically every single household. Invite children and young adults of the community to participate in a toy making contest or workshop – whichever works. Reuse these otherwise useless items to shape beautiful toys or home decor items. Take it a step further and donate the crafts to a nearby orphanage or animal shelter. There are tonnes of YouTube channels to guide you with the logistics. In extension to this, organise a donation drive of items that can be reused by your local shelters.
This Independence Day, declare freedom from unnecessary clutter in your home.
The World Was Built To Co-exist
There are news of animal cruelty from across the country almost everyday. The Directive Principles of the Constitution of India and the Fundamental Duties listed in the same, remark,"To protect and improve the natural environment including forests, lakes, rivers, wildlife and to have compassion for living creatures". It is a duty of every citizen of India to safeguard the animals around them. As a community, you have the power and resources needed to ensure peaceful coexistence with the other forms of lives around you. 
Children and adults can get together to make small shelters for the cats and dogs to shelter themselves during the harsh monsoons and the upcoming tough winters. Take steps to earmark feeding spots for residents who would be interested to feed the local strays regularly. Perhaps organise a workshop to chalk out a practical plan on bettering the lives of the animals in your neighbourhood without risking the safety of the humans residing there.
This Independence Day, declare freedom from the idea that humans alone are the only form of life allowed to exist.
Start A Trend
There is a trendsetter in everyone. Get in the influencer mode and start any social project of your choice. Ensure to commit to it and make it a legacy of your housing society or apartment community. There is no lack of social projects that need our immediate attention. Perhaps, volunteer as a community in the nearest children's or animal shelter. Or maybe start an emotional support programme for an old age home. An hour a week spent with people abandoned in their sunset years is mutually beneficial – they have something to look forward to and the youngsters can learn a lesson or two about life. If these aren't appealing enough for you, you can organise cleanliness drives around your neighbourhood, or take it a notch up and organise a reusable sanitary napkin donation drive for the homeless women around your neighbourhood. However, the focus here is long term commitment to the project and actually making a difference.
This Independence Day, declare freedom from the idea that you are responsible only for yourself; you have a duty to the less fortunate in your role as a human being.
Just In Case You Like To Think Big
So you are one of those housing societies who like to dream big. Perfect. We have ideas for you too. Let August 15 be your inaugural day for that solar power system and the rainwater harvesting set up. If you have been in the game of waste management and rainwater harvesting long enough, it is time to get to the next step of manufacturing your society's own biogas. Or get that vegetable garden started with the aim to become self dependant regarding your food needs as much as possible. Sky's the limit if you are insistent on dreaming big and seeing your dreams come true.
This Independence Day, declare freedom from non renewable resources of energy.
The spirit of freedom and patriotism need not be diffused with the end of August 15. It can be the start of a new dawn in this country's history, like it was in 1947. 
If you are one of those apartment communities who has similar stories of sustainability, click below and share it with us here: 
Summary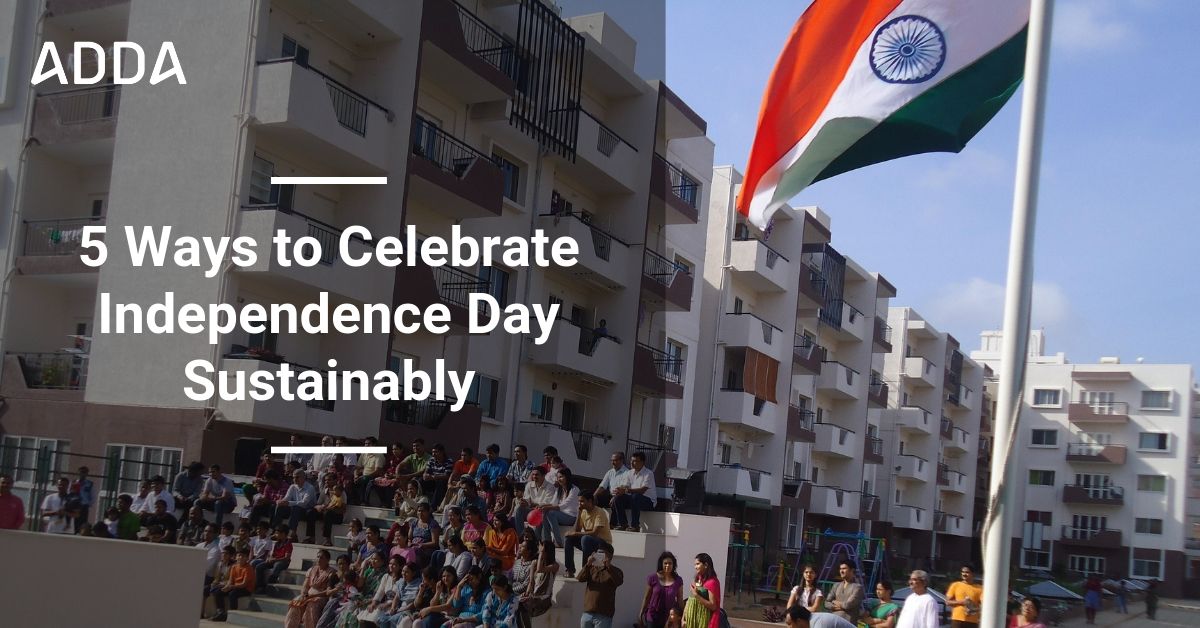 Article Name
5 Ways To Celebrate This Independence Day Sustainably
Description
Independence Day celebrations are mostly about flag hoisting, food carnivals and flaunting the tricolour. However, in this blog we try to delve deeper into the essence of freedom and look at celebrating this Independence Day keeping in mind the high ideals of our forefathers that drove them to make August 15, 1947 a reality.
Author
Publisher Name
Publisher Logo