A community is only as strong as its financial and accounting backbone. As a property manager or association member, you are responsible for ensuring the long-term financial stability of your society. With a little help from a trusted society accounting software, the proper management of finances is a sure-fire way to create stable and thriving communities.
Here we'll explain how to improve the financial landscape of your community, and why it's essential to invest in an industry-leading society accounting software such as ADDA ERP.
Staying On Top Of Your Society's Accounting
If you're new to the whole accounting game, fret not. Here are the best ways to ensure you're successful at being on top of your society's accounting.
Discipline
Discipline in finance management leads to a streamlined system of collecting maintenance dues, wiser expenditures, increased income and financial sustainability for the community.
By implementing a disciplined cashless housing society with the right society accounting software, you can rest assured that your community's affairs run smoothly.
Here's our roundup of the top perks of a proper society accounting system: cashless transactions can be done from anywhere with payment gateways and UPI, absolute cloud security with paperless records created in multiple places, dedicated accounts that ensure complete transparency in community management and an easier review process during end-of-year audits.
Regular follow up
A regular follow up of account books and petty cash transactions, is of paramount importance. As opposed to a manual system, you can review the digital account books from an app at your convenience.
Efficiency is everything
Efficiency is everything in community management. A society accounting software halves the workload of the property manager or management committee member.
You can direct your efforts toward increasing income by renting out your community's facilities to residents or third parties. This is where a unified, digital society accounting platform proves to be useful. You can keep track of transactions, bookings and extra cash flow.
Building a sustainable future
Are you committed to building a sustainable future for gated communities? There's good news! With wiser expenditures and increased revenue, the community management board can develop plans in compliance with environmental values. Solar power, rainwater harvesting, and urban gardens can all transform our living spaces into ones that respect our environment.
Why Society Accounting Software Is Useful
Without an accounting system in place, a property loses money and value in the long run. A simple yet robust society accounting software prevents this through the following ways:
100% automatic maintenance billing and collection using a payment gateway ensures collection occurs fast with zero admin cost and maximum bank interest.
A facility manager interface allows one to track common asset preventive maintenance, thus saving on repair and breakdown costs.
With expert guidance built into the product, tax blunders are prevented, therefore, saving huge penalties on taxes.
Residents using the app can report repair issues, and security concerns immediately, thus preventing huge expenses in the future.
As all staff work, data and transactions are available online, inefficiencies are caught quickly, which improves overall efficiency and reduces maintenance cost.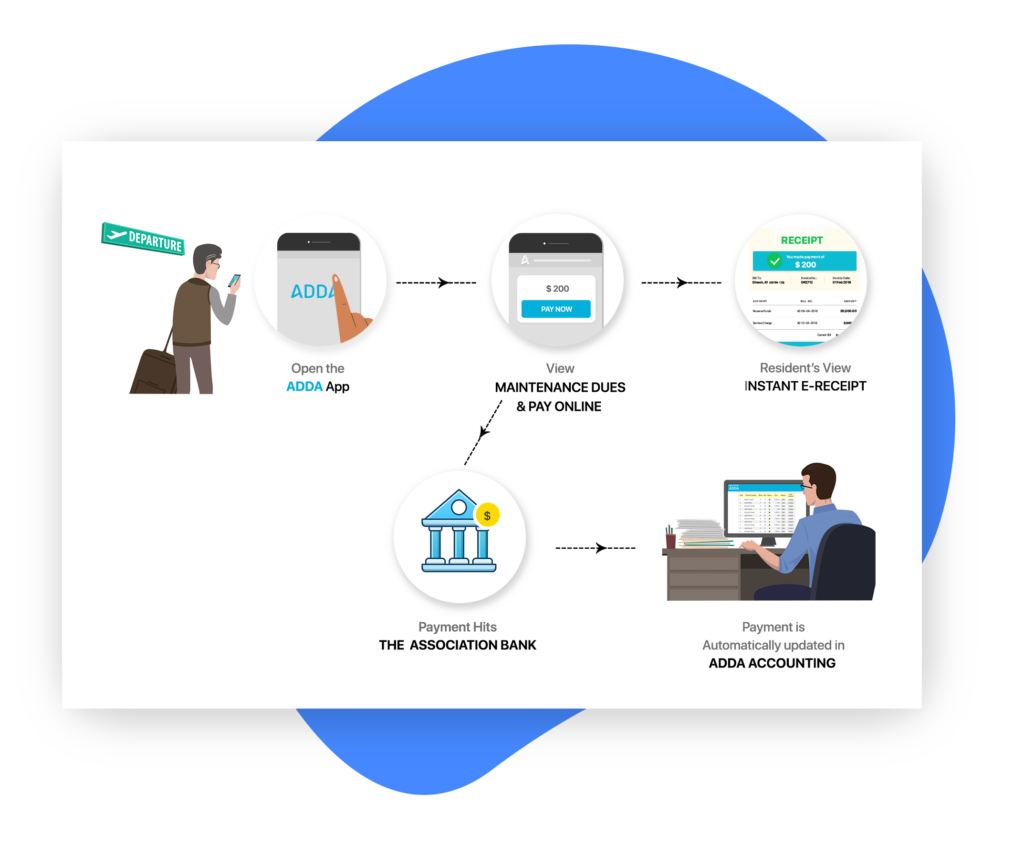 Starting The Financial Year Off Right with Society Accounting Software
As the management board approaches the end of a financial year, it swings into high gear in its preparations for the following year. From collating data and readying the documents for the auditor to filing taxes and society registration, it leads to a whirlwind of tasks.
TDS, GST and professional tax comprise some of the annual documentation that management committee members must do. In most cases, accountants and auditors are third party services hired by housing societies to sort out year-end financial duties.
With a digital system in place, assets and liabilities in the balance sheet are filled up automatically based on the daily entries made by admin members. These error-free and transparent digital records help third parties carry out their tasks more efficiently.
Advantages Of Using ADDA's Robust Society Accounting Software
Usability and Functionality of Society Accounting Software
The success of a society accounting software is determined by how well every stakeholder in the community can use it. These stakeholders include residents, apartment association or management members, community managers, accountants, and auditors. ADDA delivers tailor-made products for each user group of your community.
For residents, there is the ADDA app. Property managers or MC members have the user-friendly and intuitive ADDA Admin App. Accountants and MC members have the comprehensive ADDA ERP, while security personnel use ADDA Gatekeeper.
You don't have to be an accounting whiz to use ADDA ERP. Its easy-to-use and seamless interface ensures that even a layperson can get the most out of it. Here are some of ADDA society accounting software's unique features:
100% automated late payment penalty with safeguards against legal disputes
100% integrated payment gateway with the LOWEST transaction charges in the market, due to highest volume of transactions
Automated GST calculation
Global best practices for facility management
Ecosystem
ADDA boasts of a far-reaching and thriving product ecosystem. As managers and accountants using ADDA ERP comprise the largest userbase in the market, you have a good chance of finding one already trained in using our society accounting software.
In addition to this, ADDA proactively nurtures the community of expert managers and accountants who specialize in Owners Association Management.
Innovation
ADDA harbours a mindset of continuous innovation. We constantly build viable products that are tuned around the needs of a gated community. Communities may choose our society accounting software ADDA ERP to start with, and then use our gate management system ADDA Gatekeeper on a simple plug and play mode (since they're seamlessly integrated!).
ADDA's One App One Database gives you all-around efficiency as a property manager or association member, while making community management a truly collaborative experience.
Track Record of ADDA and its Society Accounting Software
ADDA's flawless track record of 13 years and global reach across five countries shows that we truly live up to our motto, "Rise High". Even as we wear the crown of the best society accounting software in the industry, we strive to inject improvement into our culture constantly.
Want to explore how you can better serve the communities you manage? Get in touch with us at 022-48905764 or sales@adda.io!