Today in this blog we will be looking into the ADDA society management app. The ADDA society management app is available for every resident in the apartment complex – for owners and tenants where the management committee has an additional app called the ADDA admin app. ADDA admin app is also used by the estate manager or other staff of the society office.
ADDA admin & society management app is available on the Google Play Store as well as on the iOS App Store.
Haven't switched to ADDABOOKS+ society accounting software?
Functionality of ADDA Society management app
Notification and Broadcasts
The management committee members are able to send communication to all residents through broadcast or SMS broadcast.
For instance, let's say you are taking an evening stroll in the apartment complex and the plumber comes across you and says that tomorrow there is an overhead tank cleaning going to happen. So, water supply will be stopped between 5:00 to 7:00 p.m.
Now as a management committee member you can just flip out your phone and send an SMS broadcast to all residents regarding the water supply cut.
There are pre created SMS templates available in the ADDA society management app (admin app) so that you can just fill the template and send it out to all residents for any agenda.
The management committee can also send app notifications, email broadcasts or can post a notice right from the ADDA society management app (admin app) .
Adding New Members in ADDA society management app
Management committee can also add new members. For instance, there is a new owner that has just moved into the apartment complex. You can just add them right from the ADDA society management app (admin app). This is typically done by the estate manager very often when a new owner or new tenant whoever has moved in.
The management committee can also add staff working in the apartment complex, vendors, and others.
Meeting Management in ADDA society management app
If there is a management committee meeting coming up you can just create the meeting right from the ADDA society management app (admin app) .

You can even create GBM meetings.
You can enter the topic date, time, duration, venue, etc. and can keep adding multiple agenda for the meeting. There can be any number of agendas to the meeting.
You can choose the attendees which can be either the management committee or the owners or everyone which is the case for general body meetings.
The app also gives an option to select automatic reminders that can go to these invitees one hour before the meeting or one day before the meeting.The reminder can go by SMS or email.
Last but not the least, when the meeting is going on, you can actually start taking the meeting notes on the app itself.
With many more features this becomes your complete meeting management or for the society right out of your phone.
Help Desk – ADDA society management app
You view all the help desk tickets. For instance, you can go to the help desk and view all the open tickets. You can go to the details of the tickets and look at what has been lodged, who is servicing it, and all that stuff. You can update the ticket right from the app.
There are also other useful features available to the management committee or the manager like:
You can upload an image against it so your estate manager can completely work out of his phone to look at what are the services to be done in the apartment complex.
You can search a ticket by a flat number, you can search it by category and any other keyword.
You can see the list of all the members and the central database of the residents.
Gate Security and Staff Management
Gatekeeper which is an ADDA product for gate security. It is integrated with the admin view. You have a domestic staff manager feature where you can see the list of all the domestic staff who work in the apartment complex.
You can add new staff right from the app like maid, cook, driver, or anyone new who starts working in the complex. They can be added right from the smartphone. You can also attach a picture of the person right from the phone.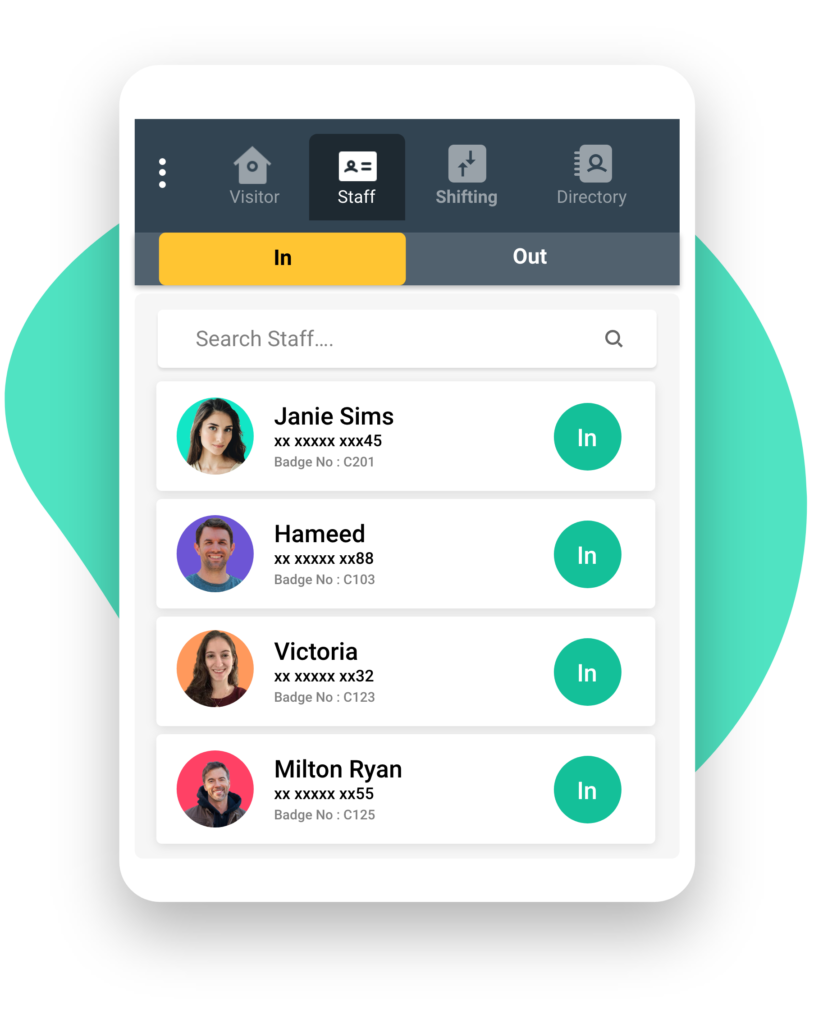 Society Maintenance – ADDA society management app
You get features like reminding defaulters or anyone who has not paid their maintenance dues. They can be reminded right from the phone.
You can also create a purchase request. You as manager can use this app to provide a purchase request. For instance,
One of the members from the management committee or office staff needs to be withdrawing cash towards petty expenses so he needs approval. It can be triggered right from the app.
Or the cultural committee member wants to purchase cereal lights towards Diwali, you know because last year diwali lights were not working so all those things can be done right from the app.
So, everything that a management committee member or a state manager or other society of staff need to be doing on-the-go is available on this very simple and at the same time very robust app.
ADDA society management app admin dashboard
The admin view when it comes to the portal has a lot more features. Dashboard layout which is at the same time very approachable and friendly. With colorful icons the manager and everyone actually enjoys using it.
As they would have to use it every day so here you have everything that you would require for managing the apartment complex and this admins dashboard is visible only to the management committee and the other Society office staff.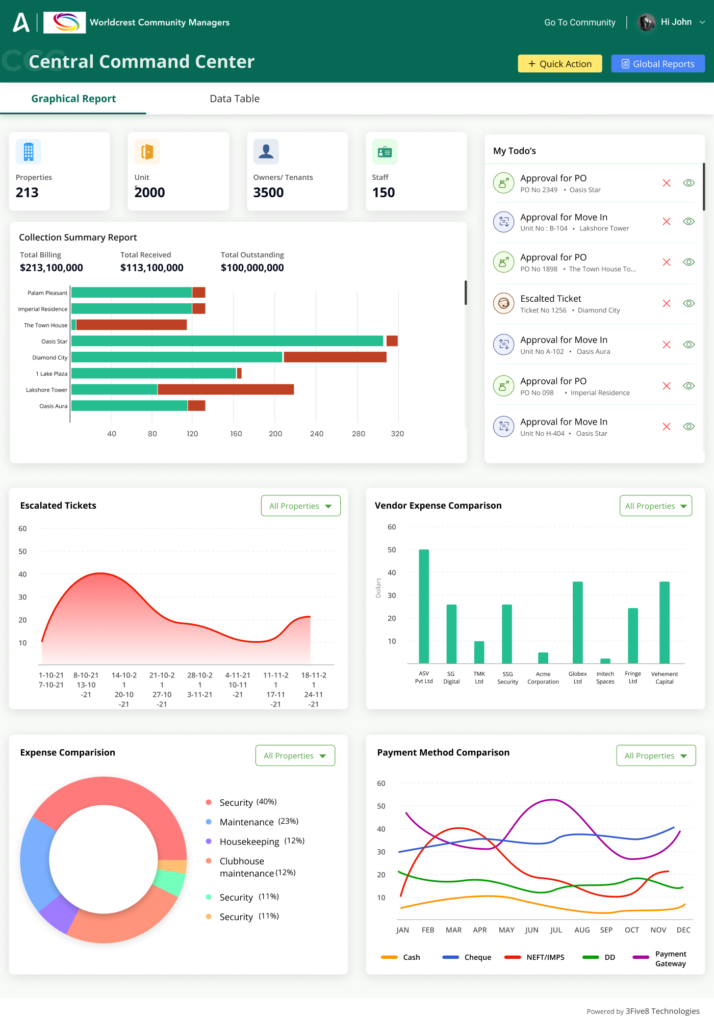 You also get a feature of a complete accounting package, billing, and finance management.
You have the income tracker which handles all the society billing, collection related activities.
You can view flat wise data – The flat having red button if they have dues and green button if they have zero dues. All the set up for maintenance billing can be done from the app. You will get an up-to-date live defaulters list to send reminders via SMS or email.
You also get filters like let's say you only want to see large dues or you only want to see maintenance feed and not sinking funds. All of those permutations and combinations can be seen right on the app with a single click. Send an email or SMS reminder which will go with a complete detail of the dues of the particular flat. Each flat will get their specific dues only. so this is the income tracker.
Make your accounting easy with ADDABOOKS+ now!
Expense tracker will show you the society vendors and if there are any payable (any amount that you have to pay them) it is very easily visible to you. You will not be missing out AMC payment for lift and that kind of other important payment. Other important features:
You can create a budget.
You can see that expense comparison.
You can view very useful reports for example as an expense comparison pie chart which will show you where your largest expenses are. There are 150-plus reports that are available to you.
Similarly you get features of bank and cash where you have the most automatic bank reconciliation available. You also get a utility tracker – if you have metered charges like you charge for piped gas or the society charges for water per flat based on meter reading that is also available and it is integrated with payment gateway.
You can get the complete balance sheet of the apartment complex available in the general ledger where you can view the balance sheet and give access to the auditor at the end of the year and so on.
So you truly do not require any other accounting package. You can view the trial balance of any period and drill down all the asset heads, all the liability account heads, income heads, etc. Receivable also you can view according to the same income. Hence, that's a huge advantage that you have on the ADDA society management app. You also have more structured financial statements where you can create group accounts, etc.
Easy Asset and Inventory tracker on ADDA society management app
You have an asset and inventory tracker which is extremely useful for you to list all the common assets that you have. It could be physical assets like the lifts, the transformer, gym equipment, or it could be financial assets like the fixed deposit.
You have the fixed deposit management that is built-in. This asset tracker has tremendous use. If you look at the details of it you can store every detail related to your asset including the picture of the asset, including the reminders for AMC, warranty document, and even the complaints that are lodged against this asset by the residents. So, this asset tracker when utilized well can bring down the repair and breakdown cost tremendously in any apartment complex.
Deployment Process – Conclusion
Our deployment process makes sure that you are handheld while setting up your ADDA society management app for all these useful features and you are able to utilize the complete benefit of it.
TALK TO OUR PRDUCT SPECIALIST NOW
There is also a self service configuration hub in case you are the do-it-yourself kind of a person and you want to set it up by yourself. There is a guided configuration hub which will one-by-one take you through that. For e.g.
first you have to set up the flat details,
then you have to set up the user details and so on and so forth.
It will also give you stars based on how well a particular module is set up. So these are some important features we are providing in the ADDA society management app and it is actually an online ERP for an apartment complex.