All problems exist in the absence of a good conversation.

Thomas Leonard.
ADDA, the pioneer in Private Social Networking space for Residential Communities is now bringing to you an all new and revamped conversation experience.
What's New?
Taking inspiration from the best of breed social media apps, we have tried to bring in a seamless experience across emails and apps when having conversations with neighbors.
In the App:
Here we have developed a host of features aimed to make your conversation experience more enriching.
Tag your neighbors in comments – Want to communicate something specifically to any of your neighbors? Maybe, inform your neighbors or community friends about the post? The best way to get their attention would be to tag them in your comments.
Reply to Specific Comments – Community conversations often tend to have multiple comments and replies. It is just a bare necessity to be able to put replies to a specific comment to put in meaningful contribution to the conversation thread.
Made some awkward mistake while posting? Don't worry you can edit those mistakes.
Want to rewrite the entire post ? Then you can delete the old one.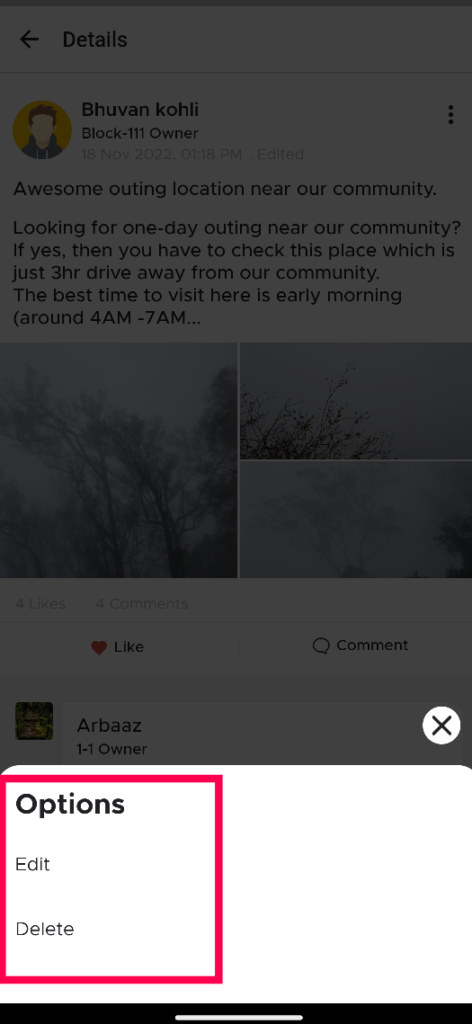 Email Forums:
With the advent of App based conversations and social media platforms, Email Forum based technologies and tools (like google groups, yahoo groups) presently hardly have much usage. We see the same usage pattern with ADDA's email forums.
(Few ADDAs use a feature called Email Forum. As a part of this feature, when any conversation happens in ADDA, an email is sent to all members of the community with the conversation details. Also there is the option of starting new conversation from emails or replying to existing conversations from Email. )
Whereas some communities are still extensive users of Email Forum – overall conversations using ADDA App have increased dramatically, because of the benefits which App based conversations provide, and Email Forum usage has been reducing. It has also been difficult to maintain this technology, as email providers are slowly removing support for this type of features.
Emails are not a 100% reliable medium for communication, as depending on algorithms of the email browser, sometimes important notifications can end up in Spam or not get delivered all together. Comparatively, if one has the App, then delivery of Communications is assured.
Today App based conversations have become the norm. Social media and conversation platforms like Facebook, WhatsApp, have seen widespread acceptance across age groups. This has been possible through the easy to use user interface of these products.
ADDA App's conversation platform has been built by amalgamating best practices from the best of breed social networking products along with insights obtained from extensive user research and user behaviour analysis.
As mentioned previously, in the ADDA App, we have added many features with which you can better organize and manage your neighborhood communications. For example: Tagging neighbors, Replying to specific comments, edit/delete of posts, etc. These are not possible when you reply to a conversation from email.
The technical landscape around conversations – including email are changing quite rapidly. Several email providers are coming up with changes to their algorithms to reduce Spam. It is not sure how these changes would effect the overall technology around Email Forums.
The recommendation from ADDA is to adopt the ADDA App, to get the best experience of seamless community conversations.
Happy conversing !!!