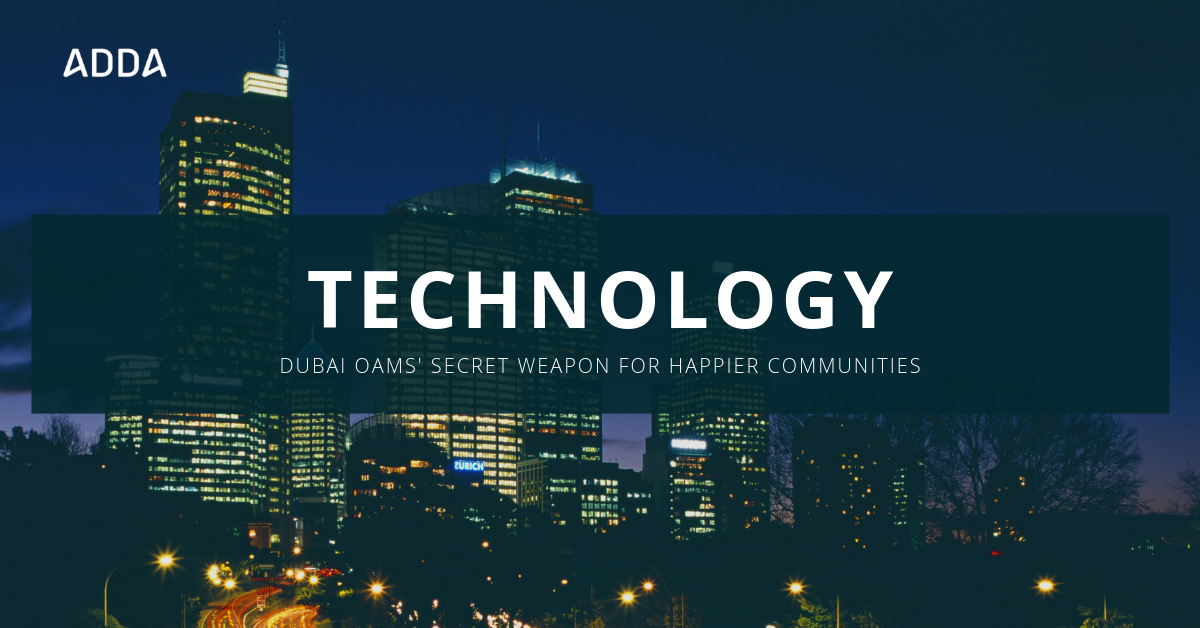 "Community – the condition of sharing or having certain attitudes and interests in common." When people live together, a lot goes into ensuring it is a space of order and peace. Apartment communities house several hundreds, sometimes thousands of people ranging across a vast demography. Their ethnicity, culture and beliefs are varied; especially in a cosmopolitan set up like Dubai. Therefore, it becomes a mandatory requirement for owner association management firms to do their best to ensure a peaceful organisation and coexistence of the residents in their projects. It is not feasible to ensure quality delivery of a healthy living environment wholly manually. This is where apartment management software come into play.
Value For Money
That one word we cannot escape in this 21st century – finances. Finance management is perhaps one of the greatest worries all apartment management communities face. With OAMs in Dubai  taking care of several properties at once, it becomes a Herculean affair to track finances of each apartment unit. The amount involved is too great for a manual system to track it without committing a single error. Therefore, with technology penetrating every nook and corner of our lives, it is absolutely of no surprise to see it gradually working its way into the field of apartment management.
We live in a global village. While we may have properties at one place, we spend majority of our time away from our properties. Or we are too preoccupied to often miss maintenance payment. Majority of residents prefer to have an easy payment option. An entirely manual system restricts payment to cash,cheque or bank transfer only. With an apartment management software like ADDA ERP, paying maintenance due is easy-peasy.
Integration with online payment gateways give users the option to use their debit or credit card to make maintenance payments. They can pay from anywhere. Digital invoices are generated through the app and copies saved for future reference. Other than ease of payment method, the app reminds when maintenance is to be paid. Invoice generation is automatic. It keeps a record of dues incurred and adds them onto the next invoice along with interest accrued. The invoice generated takes into account related taxes and incurred interest on dues. So the admin usually sets up these details once and on the chosen date, the invoice is automatically generated and sent to individual residents responsible for the maintenance.
Balancing The Books
Just collecting the moolah is not enough. It has to be spent for the upkeep of the community. A gated community comes with a ton of responsibility; chiefly with respect to maintaining the common area. Vendors have to be regularly paid for services rendered. The accounting module helps to maintain a clean balance sheet of income and expenses of the OAMs. The simple pictorial representation of the balance sheet helps people from non-financial educational or professional background to understand the basic concepts. As a result, there's more transparency in the process. There is easily accessible documentation showing where exactly the residents' money is being spent.
Getting Right To The Point
After the money, the next concern that bothers OAMs is to ensure they keep a beautiful society well maintained. Hence, the common areas need excellent care. Good care is not possible without quick communication. ADDA helps to keep apartment oriented conversation in just one app. As a result, messages are conveyed faster and more accurately. The provision of clicking and attaching pictures, while raising issues, help the maintenance team to prioritize issues to address based on their seriousness. Consequently, residents are least inconvenienced whenever something goes wrong. This facility of service requests can be availed by residents in their respective private units. This helps troubleshooting teams to directly get in touch with the complainant instead of bypassing several other middle persons.
The OAMs can even use the conversation segment to update the residents about events or activities taking place in the premises. It helps to build a healthy bond among community members. A connected community not only coexist peacefully, but can also spend time doing productive activities that benefit the society at large. It provides a wholesome environment for children to develop. A well kept community translates to safer spaces for children to play, indulge in activities and get their exercise. They do not run the risk of growing up alone.
Book It Before You Lose It
Facility booking is another major headache. OAMs find it slightly tricky to deal with. Having three types of systems (Accounting, Service Requests and Facility Management) on three different interfaces do not sound convenient. Apartment management software like ADDA ERP provide a one stop solution. Facility booking is no longer one of those simple jobs that require making too many phone calls and visits. Just a click on the button is enough to book any community hall, banquet hall or whatever facilities the complex provides. It can be booked from anywhere as long as internet is available. At the same time, a public booking history helps to avoid erroneous double bookings, cancellations and similar miscommunication. Needless to reiterate, payment can be done through the app itself.
Better Safe Than Sorry
All said and done, security is always a main concern. ADDA ERP combined with ADDA Gatekeeper provide an all rounded apartment management system for the OAMs. With the panic button activation, any resident can ask for help in a matter of a few precious seconds. Visitor management helps in pre authorising and authenticating visitors. Staff are tracked. The security personnel have a fair idea of who is in the complex at what point of time. Overstaying of staff or service personnel are noted and recorded in real time. Families can rest easy knowing their children can play in the community premises safely. Most importantly, all gate security data can be kept as records in the digital cloud for easy future access.
We are constantly moving towards a still faster lifestyle. The real estate industry is seeing a revolution and increased demand for apartments like never before. The consumer graph boast a high rate of youth investors. Accordingly, the real estate industry is rediscovering and reinventing itself to keep apace with new demands and challenging management issues. Apartment management software solutions like ADDA are the much needed boost to modernise one of the oldest industries in the world of trade and commerce.
Also, read GateKeeper in Dubai – Modern City Problems Require Modern Solutions.
Summary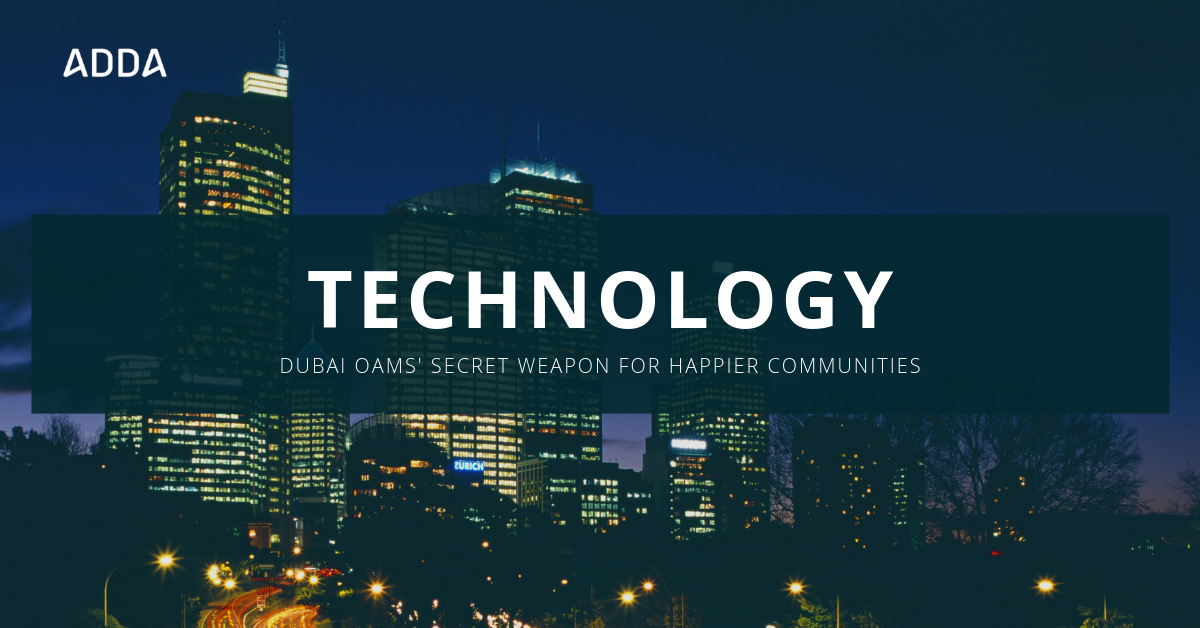 Article Name
Technology - The Secret Weapon Of Dubai OAMs For Happier Communities
Description
Dubai OAMs prefer to use Apartment Management Softwares which assists them in needs like Apartment Accounting & Billing, Gate Management, Facility Management, HelpDesk Tracker and more.
Author
Publisher Name
Publisher Logo