Looking for the best alternative to Quickbooks? There was a time when QuickBooks was the first name that came to mind when you thought about accounting software. With its cloud accounting, customizable reports and cash flow management, it was a godsend within the accounting software industry.
But with QuickBooks's decision to no longer be available in India from January 2023, more and more residential, commercial, and apartment associations are seeking QuickBooks alternatives. If you're searching for the best Quickbooks alternative, then look no further. Here's why you should choose ADDA and why it's perfect for your accounting needs.
Looking For Quickbooks Alternative? Check ADDABOOKS+
Comparison of features between QuickBooks and alternative options available
Finding the right accounting software for your society can be a daunting task, but comparing features between QuickBooks and its alternative options can help you make the best decision for your society. QuickBooks, an incredibly popular accounting software, has a wide range of features from invoicing and purchase orders to payroll and sales tax, making it a comprehensive choice for small and midsize businesses. The online version of QuickBooks is web-based, so it can be accessed from anywhere at any time, and it also works across different operating systems.
On the other hand, there are a number of alternative options available that may offer greater flexibility and better user experience. For instance, ADDABOOKS+ offer cloud-based services that allow you to access your finances from anywhere. ADDA also provide powerful features such as automated invoicing, expense management, and reports for more in-depth analysis. Ultimately, the decision on which accounting software to go with depends on society needs and preferences.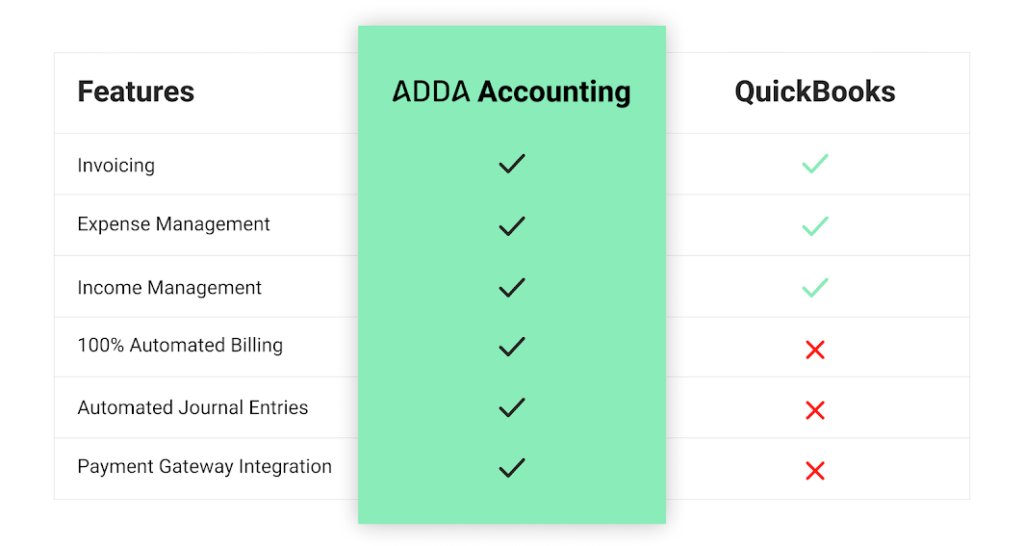 Disadvantages of QuickBooks
QuickBooks is a great tool for managing finances and accounting tasks, but there are some drawbacks that should be considered if you are thinking about using it.
Firstly, it is not free and can be quite expensive compared to other financial tools. Furthermore, it has a steep learning curve, so if you are new to accounting, you might find it quite difficult to get the hang of things.
Moreover, there are different versions of QuickBooks and each one of them has its own idiosyncrasies that can be difficult to navigate. Finally, it can be quite slow, especially if you have a lot of data or transactions to track.
All in all, while QuickBooks has its advantages, there are definitely some disadvantages that you should take into consideration when deciding if it's right for you.
Common use cases for an alternative to QuickBooks
With the ever-growing need to manage and analyze finances, it's no surprise that businesses everywhere have been turning to QuickBooks. It's become the go-to software for businesses of all sizes, from small sole proprietorships to large corporations. However, it might not always be the best fit for everyone. If you're looking for an alternative to QuickBooks, here are a few common use cases for you to consider.
First and foremost, QuickBooks is geared more towards businesses that have a lot of inventory and products to manage. If your business doesn't necessitate that level of tracking, an alternative may be a better option. Also, if you prefer a more intuitive and user-friendly interface, there are plenty of programs out there that can provide that. Additionally, some alternatives can offer a greater wealth of financial analysis and reporting capabilities. This can be especially helpful for larger businesses, who might need more complex data analysis and reporting functionality.
Overall, it's important to weigh your options and decide which software best fits your business needs. While QuickBooks might work for many businesses, there are plenty of alternatives out there, and each one may be better suited to your particular financial needs. Do your research and decide which is right for you!
Benefits of using an alternative to QuickBooks
Are you ready to break up with QuickBooks? If you're ready to move on to an alternative that can accommodate your growing business needs, you're not alone. QuickBooks can be a powerful accounting system, but its limited data capacity, lack of customization options, and difficulty of use make it a deal breaker for many people.
When you choose an alternative to QuickBooks, you may find a variety of benefits. First, many of these alternative systems have more features than QuickBooks, giving you access to industry-specific reporting, enhanced inventory management, and more. Plus, most of them will allow for more customization, giving you greater control over invoicing and payments.
Additionally, many of these alternative accounting systems feature a wide range of reporting capabilities, so you can get the most out of your financial data. Finally, alternatives to QuickBooks are often more user-friendly and easier to use, so you don't waste precious time trying to figure out how to use the software. With an alternative to QuickBooks, you can take back control of your accounting and see your apartment, society or property reach new heights.
Checkout The Benefits Of ADDABOOKS+
ADDA Vs QuickBooks: What's A Better Choice
What's better than getting all that QuickBooks offered plus more in one comprehensive solution?
ADDA ERP is an all-in-one, feature-rich alternative to Quickbooks that provides all the basic accounting features a society needs plus 100% automated features to help you stay on top of your accounting.
What The Market Says About ADDA
ADDA is hands-down the best accounting software in India, with a robust and intuitive interface. But don't just take our word for it! Here's what our customers have to say:
ADDA is the Lifeline of our Association! It's an Extremely User Friendly, Efficient and Amazing Apartment Management Software which makes Management of the Residential Complex Effortless. ADDA is the Lifeline of our Association! It's an Extremely User Friendly, Efficient and Amazing Apartment Management Software which makes Management of the Residential Complex Effortless.

Oasis Breeze
ADDA helped us become a Completely Transparent Owners Association. Residents now come forward with Voluntary Community Initiatives. The cost & effort of MC has also come down with Society Accounting Software, ADDA.

The Imperial Condominium
Some Amazing ADDA Features – Best Alternative to QuickBooks
1. Billing & Collection Automation
Achieve timely and accurate billing with 100 % automated invoicing and pre-configured formulae for calculating dues and automatic journal entries on all accounting transactions.
2. Integrated Payment Gateway
Allow users to easily make payments for dues with instantaneous receipts, on the go, from the ADDA App.
3. Expense Management
With Budgeting Module and Extensive Expense Reports, gain visibility into expenses and better cost reductions.
4. Visibility into Statistics & Actionable Insights
Take better decisions for your Community from over 150+ readily available Transactional, Audit, MIS Reports at your disposal.
5. Easy & Ready Migration to ADDA
With just three months gone this financial year, we can help you quickly migrate your society to ADDA.
6. Compliance With All Accounting Standards
ADDA provides societies with end-to-end accounting and 100% GST compliant, Income Tax and TDS.
7. Trust Of Accountants and Auditors
ADDA is used and trusted by the largest network of Accountants and Auditors for over a decade.
Additional Products of ADDA
Another ADDA flagship product is the ADDA Gatekeeper– a comprehensive, fully integrated visitor, gate and staff management software.
Unlike similar products in the market, ADDA Gatekeeper offers the following features: visitor pre-approval, incident report, automatic move in/move out, and complete cloud backup. What's more, ADDA Gatekeeper is device-agnostic, which means you get a seamless experience across all devices and systems.
Final Thoughts – Best Alternative to QuickBooks
To sum up, ADDA is a full-fledged package for residential, commercial and apartment association accounting, and the best QuickBooks alternative in the market. We offer dependable, on-demand support 24/7, including 100% remote support.
Moreover, you can trust ADDA's credibility because we're a best-practice powerhouse for community management. With a global reach across five countries, our software has been tested and found to be successful at an international level.
Overall summary of using an alternative to QuickBooks
If you've been looking for a good alternative to QuickBooks, then you now have a better understanding of the many options that are available. Depending on the size and scope of your business, you have the choice of a range of solutions, from cloud-based SaaS options to self-hosted software solutions.
Whether you're looking for an accounting package to track your business finances or an online solution to manage your entire business, there is a solid alternative to QuickBooks out there for you. With the right product and implementation process you can ensure your business processes stay organized, your data is secure, and you have the opportunity to grow.

Any questions? contact us at 022-48905764 or sales@adda.io for expert assistance.