Another year coming to an end, another year soon to begin! If you do not have any plans of your own to go out and celebrate new year, you can arrange a celebration inside your apartment complex for like-minded folks!
So here are a bunch of ideas for celebrating a memorable New Year's event within your apartment complex.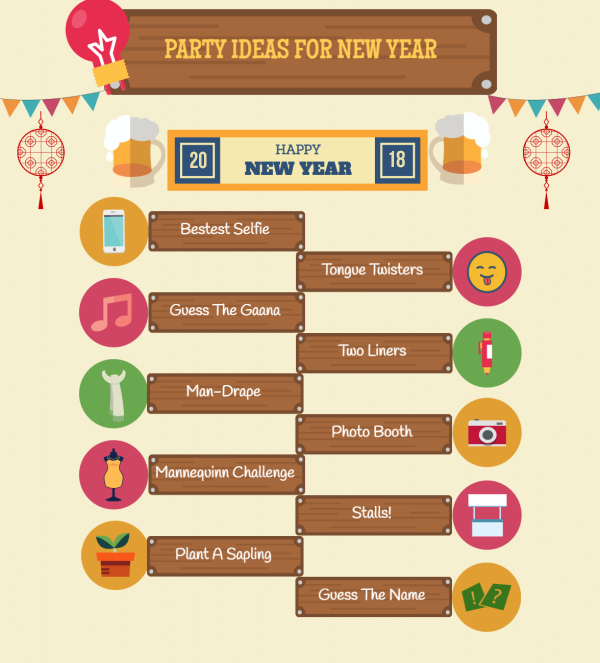 First things first, such a new year celebration in your apartment complex would have to cater to the tastes of many age groups. There would be kids, toddlers, teens, adults and elderly. So, it might be a wise idea to skip loud music, noisy set ups and overtly religions dos. Remember, the idea is to have fun without disrespecting or inconveniencing anyone.
Cultural events or events like fancy dress competitions are quite common which you already might have conducted in your complex before. Here are some fresh ideas for you to implement during this new year's bash!
1. Bestest Selfie Ever!
Create an Album in your ADDA portal and call it something like "2017 Selfie Contest". Ask residents to submit selfies taken inside the apartment complex after giving it a funny title. Best entries, decided upon most number of likes any photo gets, are displayed on the event venue. The resident wins a prize and there's popularity! You can even run a theme that highlights a feature or location inside the society. Most people would readily participate in this event because all it takes is a smartphone and a nice smile. This contest can be held over a period of one week. Do try this one out!
2. Mannequin Challenge!
This one has already taken the world by storm. Request batches of 5 people to come on stage, and ask them to pose immobile for an entire two minutes when the anchor says freeze. This should be fun. Pick the kids first, as restless as they are, it might be very amusing to watch them not move for sometime.
3. Drape The Sari Right or Man-Drape!
Make this exclusively for the men. Have a few simple saris ready and ask men to come up on stage to drape themselves with it. Set a two minute time limit and see who gets it right. Trust us, this one is going to be hilarious!
4. Guess The Song
Translate famous Bollywood songs into English. Read out the first few lines. People from the audience must then identify the real song. This game allows everyone to participate and the best part is that you don't need props or other paraphernalia. Trust us, some Hindi songs sound downright hilarious when translated to English. Take this one for example –
First intoxication, first hangover,
New love, new wait,
What have I done to myself?
Oh restless heart
Oh my restless heart, you tell me.
No clue? It's Pehela Nasha from Jo Jeeta Wohi Sikandar. Told you, it's fun!
5. Fun Two-Liners On A Topic
Ask the residents to make a fun two-liner poem about any chosen topic. It could be anything, though demonetization is a pretty popular choice now :). Make the poets recite it out loud on stage. The funniest one wins enormous bragging rights!
6. Photo Booth
Photo Booth is becoming increasingly popular with event organizers. It is fun and quirky and certainly a unique way to capture memories of an event. It might need some investment. You can either buy the party props from craft supply stores. Or you can rent it from professional photographers. There's also a good chance that there is at least one budding photographer among the residents. Give them a chance to prove their prowess. We're sure this will be a huge hit and that people would line up for their turn inside the booth.
7. Guess The Name?
This is another entertaining game that educates too! Ideal for kids below 15, this game involves someone showing photos of famous buildings/personalities to teams of kids. The team with maximum right answers, wins the game. Ramp up the difficulty factor a bit by describing the person/building and not showing them any pictures at all. Eg – Person A lived in the 1880's. Made people laugh a lot and was famous for his signature walking style and appearance. He wore a hat and was often seen in a coat. He is…? Yep – Charlie Chaplin it is.
8. Tongue Twister Challenge
Let the MC/organisers read out a very complex tongue twister to the audience. Anyone confident enough to do ten repetitions without sounding like a bunch of tin cans clashing together can go on stage and demonstrate their skills. Sounds fun? If nobody comes forth to say it, entice them with a prize! And say – Yellow lorry, lorry rally. Ouch, did you sprain your tongue?
9. Green Love
To mark a good start to the new year, the participants can plant a few saplings just before the countdown begins. Saplings can be purchased using the funds that were raised for the new year event and the planting can be done in any of the common areas or even pots, if that is convenient. There can never be too many plants on this planet. Greens are our lifelines and begin the new year with a step that is symbolic of preservation and nurturing.
You can ask some of the seniors from your apartment complex to plant the first few trees on the day of the celebrations to show them respect.
10. Stalls!
Who doesn't love shopping and also making some money on the side? As cliched as it might be, stalls are still the one thing that attracts people at events. Folks who run small scale businesses from their homes should could get some visibility and an opportunity to show off their wares! Food and merchandise stalls are often the biggest hits in any function. If you are holding the event in an open area, make sure that lighting and other arrangements are made.
3…2…1…Begin!
Let the festivities begin! Well, the idea is to hold an event that leaves everyone happy. And don't forget to clean up after yourselves. Gather, socialize and forge friendships that will last a lifetime.
Welcome the new year with joy and peace. If you have any more fun ideas, don't forget to share with us. Happy New Year, everyone, may the year ahead bring you nothing but joy and prosperity!