While the larger part of India was lighting up the Indian sky with Diwali lights and crackers, tucked in part of Bangalore was this Govt Lower primary school   children preparing to light up self made
Figure 1-Ms Gigi's team working on their Diyas
designer diyas.That was the way the Palm Meadows Members of  Lions club of Whitefield  decided to celebrate Diwali 2009.The  Maduranagara ( near Varthur in the larger Whitefield area)Government school has  been adopted by The Lions club of Whitefield .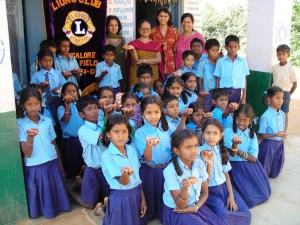 Figure 2,Ms. Mala, Ms.Madhu & Ms.Gigi are seen with the happy children, sporting their handiwork
A large number of Member couples   of Palm Meadows made the Diwali of these school children a truly special one .Mr Anuj  Valmiki of Palm Meadows also shared that the kids enjoyed making the Diyas as much as the volunteers who  helped them do it.
A truly special Diwali for the deserving!