Residents of Parijatha Apartment said "No" to noise as a Diwali special and celebrated it with only light producing fireworks.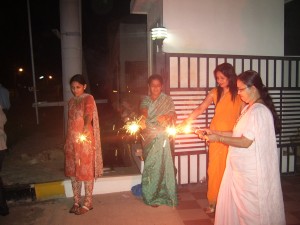 As part of a social initiative drive, the residents got together to welcome Diwali with clay Diyas and lights. Kids were also not disheartened as they enjoyed the Diwali by lighting noiseless fireworks such as Flower pots and Chakras.
Katyayani, a resident of Parijatha Apartments said "We got together to celebrate lights on Diwali and enjoyed it so very much. My son Nandan and other kids and toddlers were also enjoying lights instead of getting frightened by loud noises of crackers. We people of Parijatha are happy for taking this initiative and we would like to widen the commencement to others."
Celebration continued at Parijatha apartments with lights on Diwali!