With the aim of building neighborhoods which are connected, secure, inclusive and sustainable, ADDA in partnership with I Got Garbage (A Mindtree Initiative) concluded a workshop in Bangalore for Management Committees of Apartment and Villa Communities. With 100+ Management Committee members from across Bangalore, dignitaries like Shri P.C Mohan (MP, Bangalore), other members of city administration, citizen activists, and various SMEs attending, the workshop was a resounding success!
This is India's largest convention of Management Committee members where they come together to network, learn, and then go back to their Neighborhoods to implement.
This power packed workshop, titled "Neighborhoods of Tomorrow", covered varied aspects of neighborhoods from Security in Neighborhoods, Solar Power and Feeding to Grid and earning credits, waste management, lake rejuvenation, traffic problems, Karnataka Apartment Ownership Act, Builder Handover to the Real Estate Bill 2016.
As the event unfolded, more than 100 Management Committee members from 80+ Apartment Complexes panning Bangalore, attended the workshop and got a chance to interact with eminent panelists ranging from founders of Citizen groups, established Lawyers, entrepreneurs & City administration.
Welcome Note
The workshop started with the welcome note from San, CEO, ADDA.
Waste Management Solutions for the Future
The next session was from Mr Karan, a part of I Got Garbage team from Mindtree presenting their initiatives on waste management and how they are changing lives of rag pickers with their novel initiatives.
RISE HIGH AWARD 2016
Mr P.C Mohan, Honorable Minister of Parliament from Bangalore, was a part of the session to present the RISE HIGH AWARD 2016. This is India's only award recognizing neighborhood initiatives. More than 200 entries came in from across India. Among the shortlisted 35, there were several Bangalore Apartments including Brigade Metropolis, Salarpuria Splendor, Sobha Opal. The award was however presented to Blue Ridge Apartments, Pune. The first runner up was The Imperial, Mumbai, India's highest residential towers. The second runner up was Palm Greens, Ahmedabad.
Mr P.C. Mohan addressed a over packed workshop, listening and addressing various issues raised by the attendees. He also talked about schemes that he is launching in Bangalore from MP fund towards overall upliftment of society and infrastructure.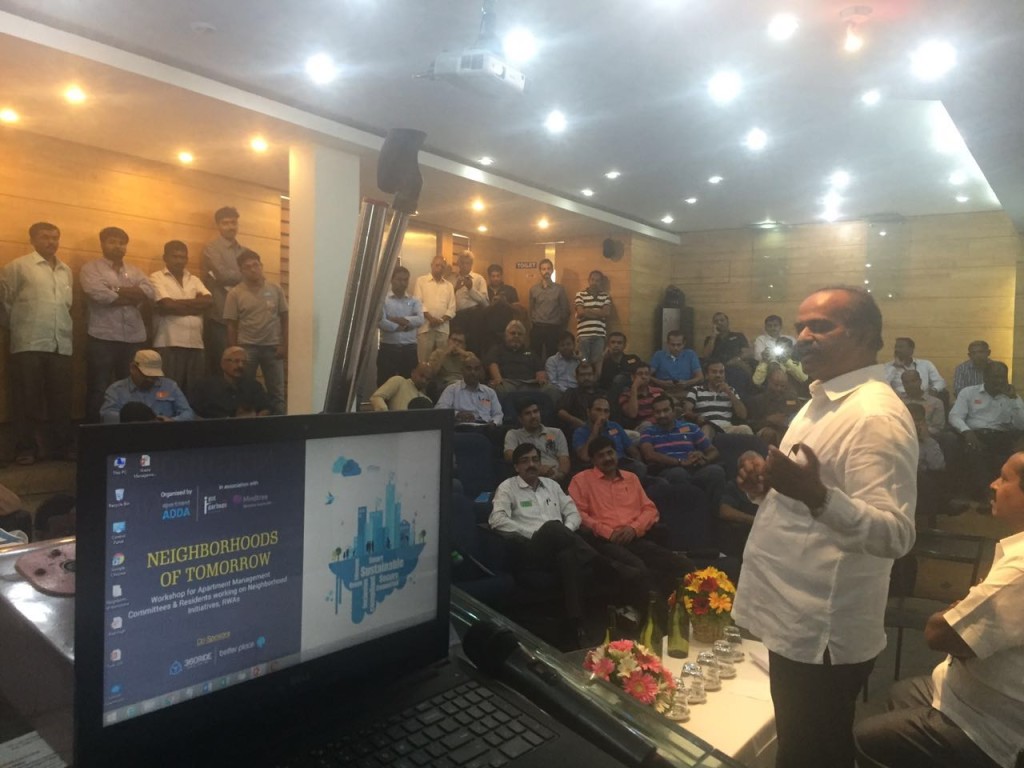 Secure Neighborhoods – Panel Discussion
There was a panel discussion on Security in Neighborhoods. The panelists were Anupama Kilaru, member of Whitefield Rising, a citizens group, Mr. Pravin Agarwala, CEO Betterplace, a startup providing verification services, Mr. Narasimha Murthy, Karnataka Police and Ms. Caroline Mendez, Director, Stalwart Security Services. Ms. Anupama and Mr Murthy described how they are developing secure neighborhoods through participation of common citizens. This initiative is called Neighborhood Watch.
"We are always reactive when it comes to security", said Mr. Pravin. There were several concerns from the attendees on security which were discussed including more number of delivery boys entering the premises, to CCTV being a reactive measure, to the problems of getting good security guards.
Technology: Solution to Security issues in Neighbourhoods
Venkat, CTO, ADDA, presenting Gatekeeper a next gen solution to transform security in gated communities.
BESCOM: Solar Power, Grid Electricity Credit
Mr Satish and Mr Nataraj from BESCOM, explained how the MC members can install rooftop solar sets and become self-sufficient with respect to electricity. An extremely interactive session, Mr Satish explained the details of setting up solar panels and how with almost zero maintenance the installation cost can be recovered in 4-5 years.
Initiatives outside Apartment Gates – Panel Discussion
Next was a session on Apartment Social Responsibity. This session which was moderated by Mr. Satyam Gambhir from I Got Garbage (A Mindtree Initiative), delved deep into how citizens of Apartment complexes can solve neighborhood issues outside their gates, how they can garner support for causes both inside the gates and outside. The panelists were Ms Malini Parmar, a waste management expert, Member SWMRT, 2bin1bag.in & Kasa Muktha Bellandur; Mr Arvind Keerthi, an urban activist on Lake Rejuvenation; Mr Subbaiah, founder member of CiFoS a citizen group from Sanjaynagar and Ms Meera, co-founder Citizen Matters.
"Local is where all problems are. It's very important to document information and communicating everything to other residents around you. If you communicate the problems properly, then you will always gather support around your cause", said Meera.
There were several topics which were discussed including how CSR money from corporates can be used for neighborhood initiatives like lake rejuvenation, how to tackle garbage collection mafia to how to take small steps to change entire neighborhoods.
Q&A Session on Builder handover, Facility management
The last session was an interactive Q&A session on Karnataka Apartment Ownership Act (1972), Builder Handover, Legal issues faced by Apartment dwellers, and facility management best practices. The panelists were Mr. Nagesh, a leading lobbyist on Real Estate Bill 2016; Mr Ankur Jain, Director of Paradigm Facility Management services, Mr Balaji from Novojuris, a leading legal firm, Mr Rakesh Barya from Klassik Benchmark, one of the only 17 Apartments to be registered in 1972 Apartment Owners Act and Ms Meera, co-founder citizen matters.
Again a very interactive session, discussions ranged from the problems with Society Act (1960) which presently every apartment registers to, the lack of privilages which the apartment residents have by registering to that act, problems of not having occupancy certificates, etc. Mr. Nagesh explained how the Real Estate Bill is trying to resolve all problems which the present real estate market, and apartment dwellers are facing.
Citizen Matters
Meera, Co-founder Citizen Matters, spoke about various community initiatives Citizen Matters are organizing like citizen journalism workshop, collaborative journalism on civic issues, etc. in Bangalore, towards building the Neighborhoods of Tomorrow.
Force -GW
Mr. Venu, from Force-GW, a Federation of RWAs, Communities and Establishments of Greater Whitefield, explained to the attendees how to form associations of associations and invited associations from Whitefield area to be a part of their initiative.
With a star studded set of speakers, dignitaries and a over packed room of Management Committees, being a part of this day, ADDA's 11th workshop, was a resounding success! Cheers to many more such workshops to come and to building the bright neighborhoods of tomorrow!
Here's a link to our previous workshops.