In the backdrop of the alarming water situation of our city and Rain Water Harveting being mandatory from Nov-01-2009, ApartmentAdda brings The Water Workshop for Apartment Communities – on Dec-06-2009!
We invite you to participate in this one of its kind event that brings together Apartment Owners Associations, BWSSB veterans and RainWaterClub experts – to work together on Water issues and solutions.
Please find the details and register at The Water Workshop!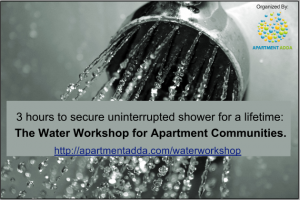 PS: Thanks to Sachin and Venkat for the Workshop page created in record time!