We just took the 2nd Big Step towards MDU Management! An Institute to groom Qualified MDU Managers!
Last Saturday evening saw the grand Launch of AIMM – ADDA Institute of MDU* Management! The First such Institute in India to train independent MDU Managers!
*The word MDU – Multi Dwelling Unit, much used outside India, was introduced to represent Residential and Commercial Complexes in India as we are otherwise waddling in inaccurate descriptions like "Apartment Management", "Association Management" etc.
WHY
Apartment Living is fast becoming the chosen option in Cities. The need for Qualified MDU Managers follows this trend. While the estimated need for MDU Managers in India is 300K+, there are only 20K Managers that are employable. There exists a significant and growing gap between demand for MDU Management skills and the supply of it.
With our 6 Years of experience in providing the leading MDU Management ERP, physical presence in 6 major cities, a Team with a total of 30+ yrs experience in managing MDUs, multiple dedicated Workshops for MDU Managers, we bring to you an Institute to fill this gap, with focused vocational courses for MDU Managers.
WHAT
AIMM courses are for Existing and Aspiring MDU Managers, Accountants, as well as Managing Committee Members. Courses span Engineering, Operations, Administration, Finance and Soft Skills. The Faculty consists of Subject Matter Experts from various fields, Experts from Civic Bodies as well as Veteran MDU Managers.
The Launch itself was attended by 60+ MDU Managers from Bangalore, with few sign-ups on the Spot!
We thank our Chief Guests: Mr. Suhas Nerurkar, Mr. Sajin Kunhambu, and Mr. Sridhar Chari for inaugurating the Institute with words of Inspiration and answers to questions from the Participants!
Below is the Launch in Pictures!
Do head here to know all about this Institute, as well as express interest to participate, either as student, faculty, recruiter or simply a well wisher!
Entrance to the Institute, adjoined to ADDA office!
ADDA Co-Founder Venkat Kandaswamy dons the hat of the MC! (Master of Ceremony in this case)
ADDA COO Ashika Sripathi explaining the Genesis of AIMM.. From Workshops to an Institute!
Lighting of the Inaugural Lamp!
Chief Guest Suhas Nerurkar – President Palm Meadows Owners Association, General Secretary Nav Bharat Democratic Party, likens the role of the MDU Manager to that of the IAS Officer (Bureaucrat) and role of the MC Member to that of the Minister. A MD Manager must manage expectations of the MC Member, just as a Bureaucrat does that of the Minister.
We had a Houseful! Extra chairs brought in from the Cafe!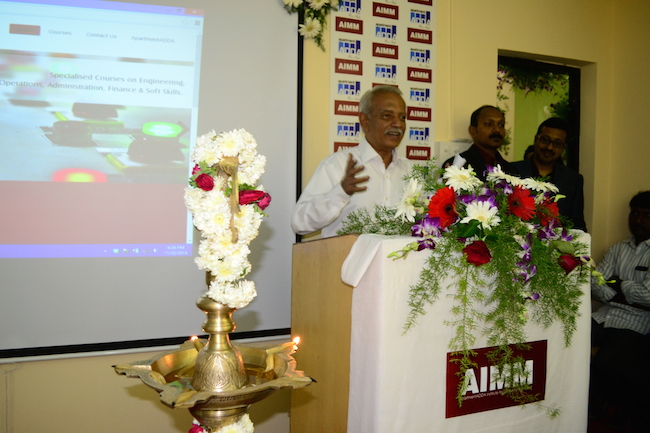 Guest of Honor Sridhar Chari – Ex-MDU Manager of Palm Meadows and Prestige Shantiniketan, brings a parallel of AIMM with Arjuna's Aim!
Guest of Honor Sajin Kunhambu, advisor to ADDA development, appreciates the Initiative
Lead Instructor Vinod's presentation
Vinod explaining the Courses.
Attentive Audience.
Networking Snacks. A perfect evening of Get-together for MDU Managers in Bangalore!
Checking out the ADDA Wall!
The slide the Audience LOVED.
– Team ADDA.