Financial Governance is the most important Pillar of any Association. Associations without Robust Financial Governance become a hotbed of Corrupt Practices, lose Funds and over time the Property falls to poor maintenance. Ultimately the Property loses Rental as well as Sale value. Here are 5 Golden Principles from Communities with Top Notch Association Accounting Discipline!
1. Sacrosanct process of Maintenance Invoicing – On Time, Every time. Complete with Arrears, Late Payment Penalty, Taxes (if applicable)
Why is this important? Unlike a Corporate or a Business, an Association/MCST/HOA is an organisation that is often not well understood by the Owners. So it runs the risk of non-compliance by Oweners. It becomes imperative for the Association/MCST to establish its Organisational Credibility via display of Professionalism in its Activities.
Billing of the Periodic Maintenance Funds / Assessments is the most important Activity of the MC (Management Council) that supports all other Activities – Collection of Assessments / Maintenance Funds.
This is also the Activity that presents the MC's operational prowess to every Owner. All Owners are obligated to pay a Fixed Maintenance/Reserve fund amount every month or quarter. The Billing for this does not wait for any particular service completion etc.
This being a recurring, routine activity should be as automated as possible so that it is ON TIME as well as ERROR FREE. Such a System brings the necessary Credibility for the Association processes and a Culture of Trust and Respect is established for the Association.
Bills that are generated on Random Dates, may have Errors pointed out by Owners, contains incomplete Arrears, does not contain accurate Late Payment Penalty etc., destroy the Credibility of the Association.
This results in High Defaulters as Owners don't trust the Association with their funds, and can even spiral to a general culture of non-Compliance of Association Rules by Owners as well as Tenants.
The Bill Generation process in ADDA is 100% Automated. It also results in Automated Accounting/Journal Entries!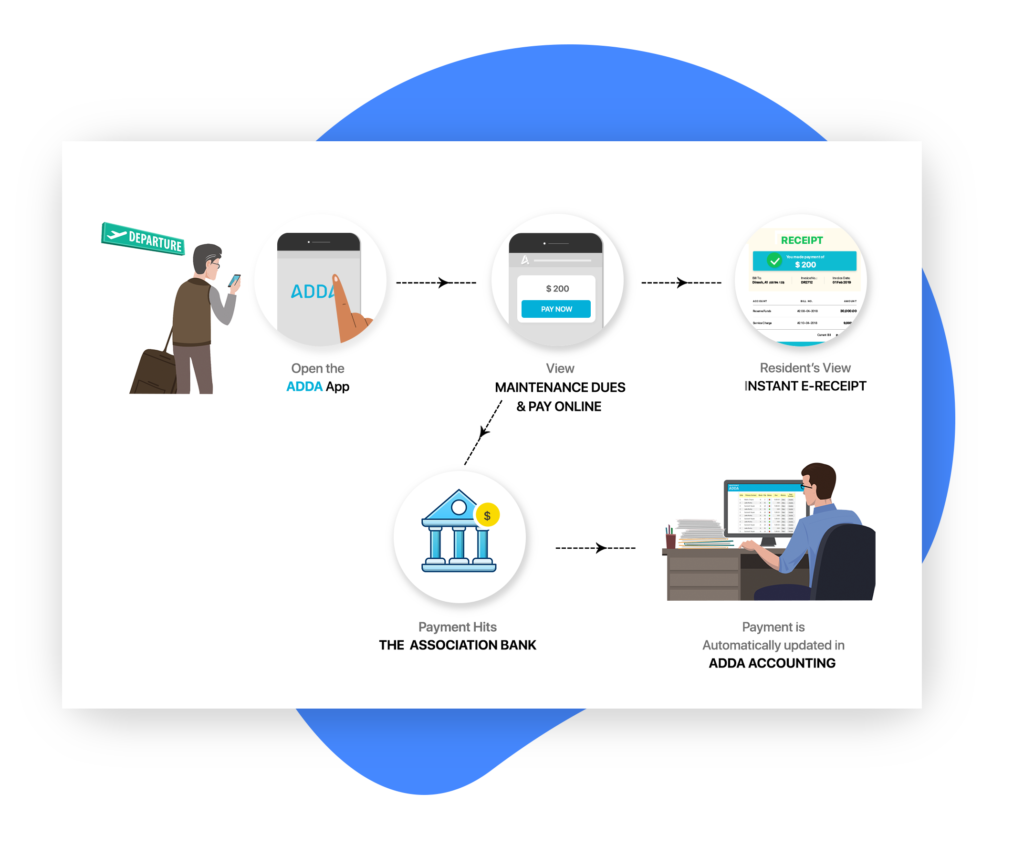 2. Every Payment method provided to Residents – UPI, Cards, Netbanking. No Cash and minimal unavoidable Cheques.
On an average 30-40% of Units in a Community are rented. This means the Owners live elsewhere – maybe in a different City or Country.
Tenants also have a Global and Traveling lifestyle. It is imperative that all methods of Payment are made available for the Owners or Tenants to make timely payment of any Dues.
An Immediate provision of Receipts is also a must so it completely closes this loop for the Owner/Tenant. The Online Payment and Receipt process of ADDA happens seamlessly and results in reduction of Late Payments by upto a whopping 62%.
Why avoid Cash? It is obvious – Cash involves high operational efforts for Cash handling, depositing, accounting and reconciling. It also lends itself to easy misuse.
Why avoid Cheque? Cheques also have high operational efforts of banking them, accounting and reconciling. Cheque bounces are not uncommon and result in double effort on part of everyone.
Besides, for most payments Cheques are now obsolete. Many Owenrs/Tenants have forgotten how to write Cheques and result in back-n-forth to get the Cheque right!
Also read: Still Searching for the Best Society Accounting Software in 2023? Try ADDA
3. All Purchases recorded as Purchase Request > Purchase Order > Invoice > Payment. During AGMs Expenses are the most questioned, records kept squeaky clean!
The ADDA Team has had the pleasure ( 🙂 ) of witnessing more than 200 AGMs, across multiple Countries.
The Topic that get all AGMs heated up without fail, are Controversial Purchases – Purchases with high Ticket Values, UnBudgeted Purchases, Purchases with insufficient Due Diligence etc. Meticulously collected Association funds can easily disappear when there is no Strict Purchase Discipline or System.
We have observed MCs as well as Management Companies dig up their Emails etc. in AGMs to answer Questions on Proposals received, Purchase Requests etc.
Having a System that tracks the complete Purchase Workflow till the Payment, in a SINGLE ONLINE place is a must for Associations that must have Tight Control on Costs.
The process must capture all Interactions and Documents (e.g., Proposals from Vendors, Invoice, Payment Voucher etc.) in one place, against each Purchase.
For advanced MC/Associations this process can be taken further upstream with a Robust Budgeting process, alerts on exceeding Budget etc.
ADDA's "Expense Tracker" has nailed the entire Workflow of Budget to Purchase Request to Purchase Order to Invoice to Pay!
Good-Bye to fumbling in Email Inboxes in AGMs! Hello to "bang-bang" answers for Purchase related questions in AGMs or Auditors!
Also read: 5 Best Practices For Cooperative Housing Society Accounting
4. TDS – Tax Deducted at Source – deduction (from vendors), payment (to Govt) and filing done on time, every time – Association Accounting
This is a specific issue for "SELF-MANAGED" Associations. Many of these Associations do not hire Professional Accountants to set Processes or perform bookkeeping. As a result payment to Vendors get made without deducting TDS or relevant Taxes.
At the end of the year during Financial Audit, the external Auditor points this out and the MC is in trouble – they have to track each Vendor and recover the TDS which is next to impossible. Ultimate the Association ends up paying those taxes from its pocket.
This is avoidable loss for the Association is very very common! This also happens when the Associations hire Professional Accountants but the Accountant is new to Association accounting and has not taken the effort to study Association Accounting. They often wrongly assume that the Association has zero tax implications in all aspects.
While ADDA has complete Tax workflow built in for Taxation for multiple Countries, ADDA also has references of experienced Association Accounting firms who must be engaged by Associations for establishing fool-proof Tax Compliances.
Feel free to get in touch with us if you may require the services of such Accounting Firms. <LINK to Partners Page>
Also read: Best App-Based Society Accounting For Associations
5. Bank Reconciliation done every MONTH, Bank Reconciliation Statement published to all Committee Members – Association Accounting
The ultimate truth of Financial Transactions is the Bank Statement. A Disciplined Cadence of Bank Reconciliation – where the Bank Statement is matched with the entries made in your Accounting System, can quickly catch anomalies and prevent possible pilferage.
Let's see an Example. A cheque of 20,000 is paid to a Vendor. In accounting system it gets entered as 2,000 due to manual error. During bank reconciliation, the Bank Statement will show 20,000 and the Accounting System will show 2,000 for the same cheque. The entry in the Accounting System can be quickly corrected.
If there was no Bank Reconciliation, then the Accounting Reports will be flawed and can result in wrong decision making (MC assumes there's more money in the bank than there is actually).
One can imagine the mis-use of funds that can be caught quickly with Bank as well as Petty Cash Reconciliation. Unfortunately, it is quite common for Site Staff to misuse Petty Cash.
A well known Reconciliation Discipline of the Association can pre-empt such temptations.
Also read: The #1 Billing + Accounting SaaS for your Properties
6. BONUS: All the above done in ONE Integrated Billing + Association Accounting system! Online with Automated Journal Entries!
Well of course, this is a shameless Plug for ADDAbooks+! But you know this is true.. If there can be one System which can do all these in one place, tailored for Community Management, proven and trusted over a Decade by thousands of Associations, it's a no-brainer to use it!
Are you still hazy about your Community Accounting practices? Is the Accounting scattered on multiple systems – Community Portal, Tally, ExcelSheets etc.?
Did you know ADDAbooks+ is available for your Community Accounting needs?! No disruption to your Community App. FREE Migration for all CURRENT FINANCIAL Year data, subject to prevailing Offers!
Call us for a Complimentary Consultation for revamping your Accounting Process – with or without ADDAbooks+