We are delighted to announce that ADDA is giving an Essential Free Society Management App for all Gated Communities. Times are changing, the way communities function is changing. Social distancing is becoming the norm. Now is the time for communities, yes all residential communities to take their management online.
The best part – NO HIDDEN CHARGES, absolutely No Strings Attached.
ADDA Essential Pack – What Does It Mean?
The Essential App gives you access to all the basic apartment management necessities in managing a community. Download the App and just get started.
Access To Essential Services From Local Vendors : Right on top of the home screen, you see the Discover train. Discover is a marketplace for residents. In the wake of COVID-19, this feature and platform has evolved to become a connecting space for users and local vendors. Medicine delivery, grocery delivery, lab tests at home, doctor teleconsultation, laundry services, sanitisation services – name it and it's on Discover. You can know more about Discover services and how they work, right here.
Communication : If these unpredictable times have taught us anything, then that is the importance of authentic communication. Residents can post their asks on the Communication platform and have their queries resolved by other residents. Management Committee members, RWA members can easily post notices that shall be available to each resident. This free apartment management app is here to help you have a healthy communication network in your community or neighborhood. And don't worry, your communication is visible only in your ADDA network. It's a private social network, not accessible to users outside your community or neighbourhood.
Panic Alert & Emergency Contacts : Always, always be prepared for emergencies. With the Essential ADDA App, you can configure the Panic Alert to instantly inform your friends and neighbours if you are in trouble. A three second tap is all that is needed to shoot out SOS messages to your configured contacts. The Emergency Number list can be populated with numbers of your local police station, hospital, ambulance services, grocery and medical supply vendors, gas delivery vendor, etc. This list will be accessible to everyone in the community to seek help as and when they need.
In-House Delivery Hub : We understand your need to make absolutely sure that your community is absolutely safe from COVID-19. A step in that direction is contactless deliveries. With 67% of daily visitors being delivery agents, contactless deliveries are the need of the hour. And we have the perfect system in place for you. For more details, read here.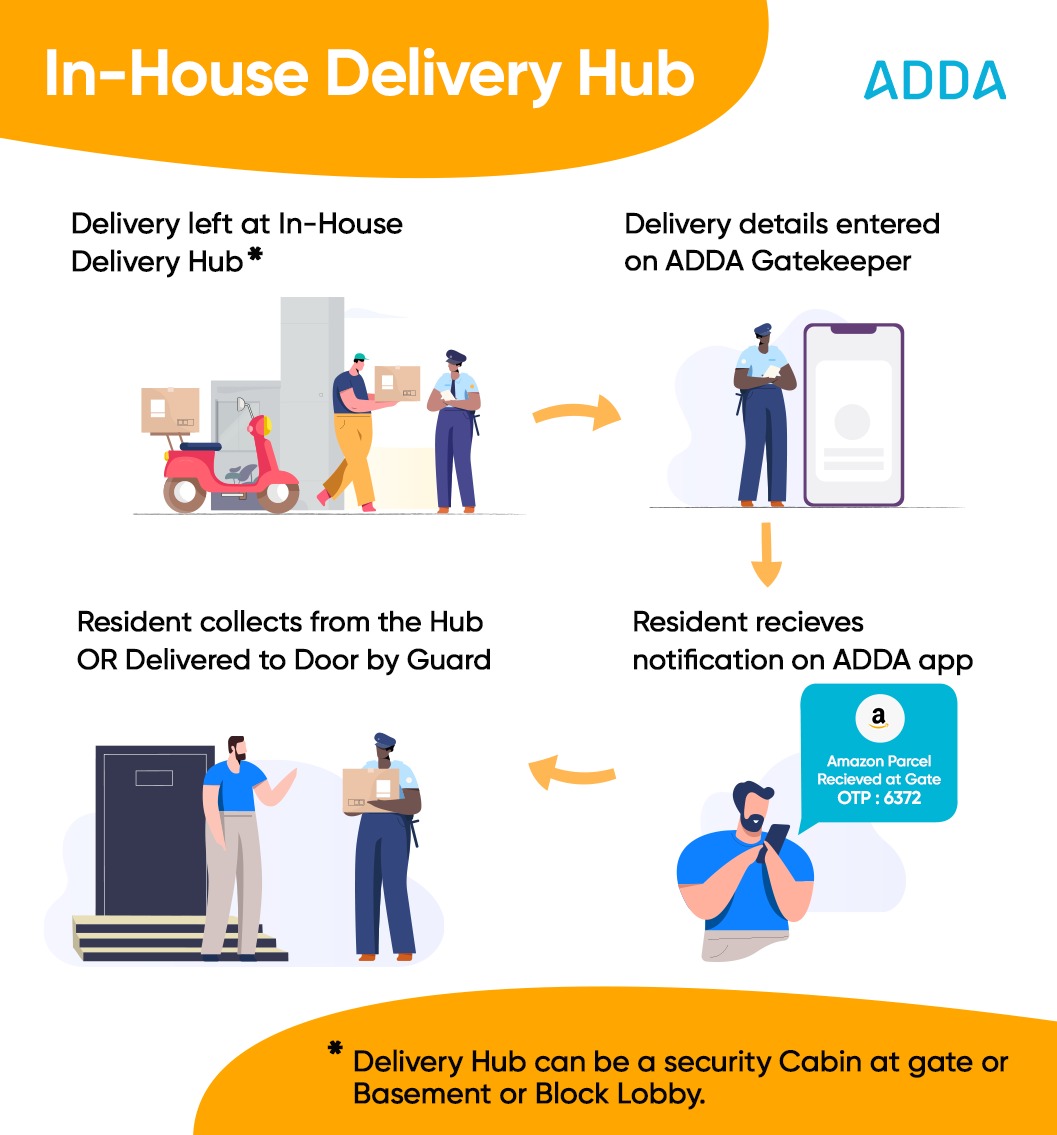 The Essential ADDA App is available for use to residential communities all across. Whether you are a user in an apartment community, or housing society or gated community or even a private layout, you qualify to use the ADDA App. New Associations, Associations going through Builder Handovers are perfect candidates for this App. Better still, it's okay if your community uses a different software platform, you can still use the ADDA App. The bonus : This version of the App is usable even when the COVID Crisis is a thing of the past. We are here to make your life easier.

To know more, you can contact our Product Specialists right here.
Summary
Article Name
ADDA - The Apartment SuperApp : Complimentary Package
Description
Read all about the benefits of the Complimentary ADDA App.
Author
Publisher Name
Publisher Logo