Amidst multiple Lockdowns, everyone working from home, a lot of action has moved to Residential Communities.
With greater responsibility on Community Management, their technology of choice must also evolve quickly to the new normal.
Here are the enhancements ADDA has released since the time Coronavirus got unleashed.
Check out Maharashtra State's SOPs to tackle the rising number of COVID-19 cases here.
Your ADDA App now has an inbuilt COVID Vaccination Tracker! This simple feature lets residents who have received their dose mark themselves as vaccinated in the app. In the tracker you can find the names of vaccinated members in your community. This helps residents discuss and share their vaccination experience with one another, bringing in transparency and awareness. Download the ADDA App to learn more about this feature and become a COVID free community.
Home Quarantine Tracker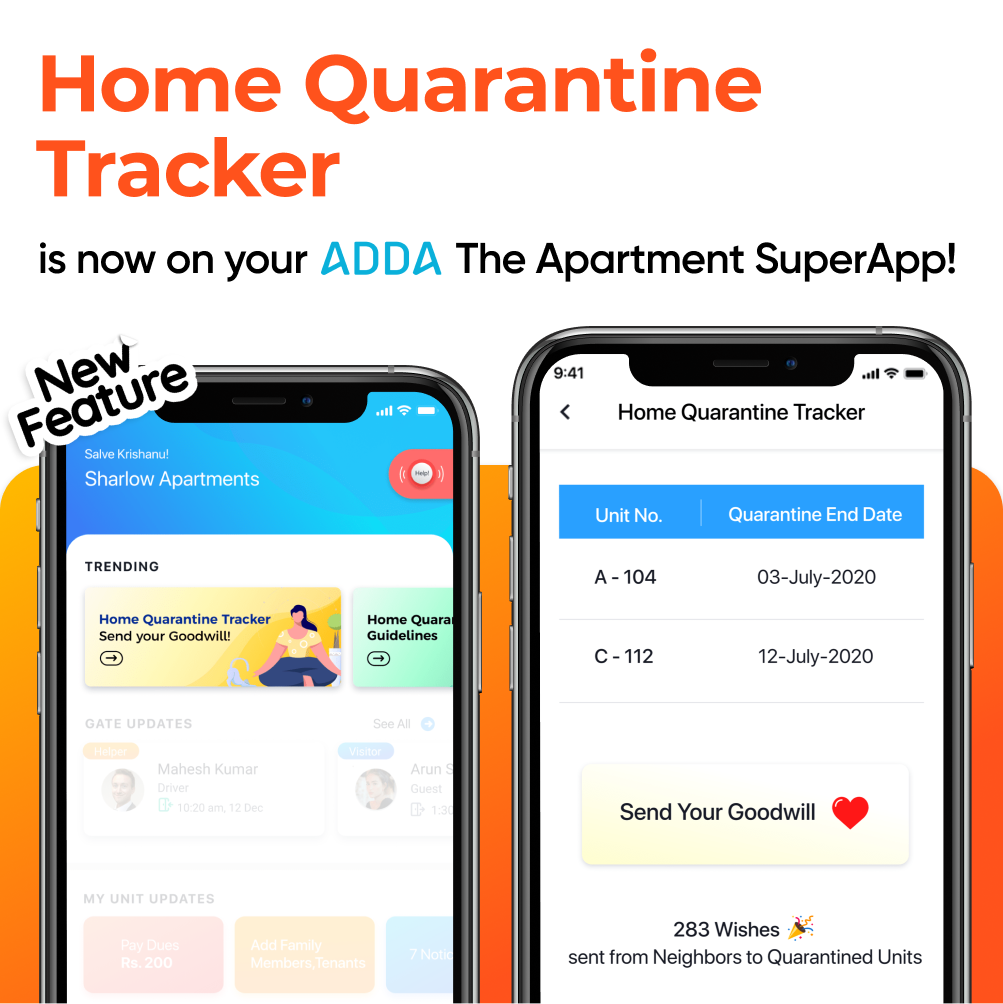 This new feature helps to stay updated about the quarantined units in your community. Neighbors can also use this to send goodwill wishes or offer help to neighbors. This also helps Associations to arrange for essential services delivery and precautionary sanitisation measures for the quarantined unit. Click here for details.
The New UI with highlight on ESSENTIALS
Multiple @Home Services are needed by Residents in this situation, multiple local vendors wish to bring these services to Residents.
Our newest UI makes this possible in an elegant way. All about the new UI here.
Collect-Delivery-At-Gate
Delivery Agents are not being allowed beyond the Gate. This feature is introduced to streamline the logistics of contactless delivery with accountability and without complications. Read details here.
Emergency Contacts
Covid-19 has taught us the importance of keeping emergency contacts handy – multiple ambulance numbers, police, covid helplines, delivery helplines and so on. ADDA was quick to make the Emergency Contacts easily findable by Residents. Also, it has separated this feature from the GateKeeper product, and made available to all Communties, irrespective of their subscription plans. Click here to read details.
Find In-House Doctors, Healthworkers
Another quickly introduced feature to help residents find doctors, nurses or medical personnel for any emergencies, irrespective of its relation to covid-19. Read Point 14 for details here.
Panic Alert
This feature had always existed in the ADDA App. The new UI of the App, makes the panic alert button way easily accessible and also makes configuring the SOS contact list easier. Check out how it works.
Essential Services On Discover
ADDA users can now easily avail a host of services introduced to make life easier through the Covid-19 crisis.
Temperature Check Record
With Lockdown restrictions relaxed to allow housekeeping staff, cooks and domestic helpers to return to duty, the GateKeeper App has released a new feature to record the body temperature of staff right at the Main Gate. This helps communities to enforce safety guidelines to avoid a contamination. A staff with fever can be asked to stay home to stop possible COVID infection. Read more right here.
This however is not the end. We care for our users – their convenience and their safety. This is a part of a running list of our steps to fight this pandemic with you. You can also check out our tips to frame your community guidelines.
Gate Broadcast
A new feature released for the Admin, it helps Management Committee/Associations/RWAs to send out broadcast messages to each and every resident regarding the arrivals of group orders like vegetables and fruits, groceries, etc. This feature is aimed to help the MC automate the logistic to promote organised convenience for residents while practicing physical distancing.
Online Ballot
A revolutionary, one of its kind feature in the country that solves the problems of conducting elections for Housing Societies, College Alumni or any Committee that has an elected governing body. This feature lets you take your elections online while following data privacy and social distancing. Click for details.
Slot Booking In Facilities
It's the season of festivals coming up. But when technology is around, why miss out on the fun? Facilities are now equipped with slot booking on the ADDA App to help Communities organise public festivals while maintaining social distancing. So be it the upcoming Durga Darshan or the Nativity Scene, your Clubhouse can still be the centre of Community Life.
Stores at your Doorstep
With COVID restricting even intra city/town travel, and central cooling systems known to spread infections, shopping in malls and shops has dropped. Residents wished for some resemblance of normalcy in the pandemic and we jumped to help. ADDA Revgen is a unique programme where we get Communities connected to their favourite brands. Residents can shop within the safety of their premises. This is also an additional revenue stream for Associations. To know more about this programme, click here.
Webinars On COVID Care Centres & More : Our unique position gives us the opportunity to reach out to several residential communities. To that effect check out our Webinar on Setting Up COVID Care Centres in your Community. You can also click here to check our other COVID related Webinars.
Community Guidelines : We have access to the best practices of crisis management followed by communities across the country. We are grateful to be in a unique position and delighted to share the knowledge with you. You can read more here , and here: how ADDA is fighting the threat of Coronavirus..