It has been a while since 2023 has arrived. While the year changed, some things rarely change. Like resolutions to make this year count, and renewed commitment from all of us at ADDA to give you the best of service and product this year too, as we have always given in our previous years.

While we get started with the new year, it is time for a quick round up of 2022.

The view from the Top
In 2022, we were managing a significant portfolio of products, across 9+ countries globally.
ADDA App (the flagship product which drives the living experience of Owners/Tenants in Residential Communities),
The Community Management ERP SaaS portal
Community Manager App for the Community Management Team,
Gatekeeper App for Security or Concierge Desk
A host of Branded Apps built for Enterprise Clients (Builders, Communities who chose to gift the best community living experience to their residents)
ADDA Integrations Platform – 30+ APIs which enables an ecosystem of softwares and hardwares to work with ADDA to provide a smart living experience to community residents
The above product landscape posed considerable challenges for the Product and Engineering teams – with rising demands to understand the customer needs across these geographies and products better, to handle product deployments better, manage infrastructure requirements better, prioritise better and pack in better innovation in our product development.
While we had our scares and firefights, we hustled our way through and at the end we all came out to be better versions of ourselves. Thanks for being with us, for loving our product and supporting us throughout the year!

Here are a few highlights of 2022, from the Product:

1. ADDA App
i. Tenant/Owner Access Control
Let's consider a Community that might not want to give view access of their community dues and internal calculations to tenants. On the other hand, they would like only tenants to have access to book common amenities and restrict this access from Owners who have rented their properties. We built in a nifty set of configurations which enabled tenants and owners to be added and given access to the modules which they are in need of.

ii. Upgrades to Several Sections of the App
The neighbourhood Buy/Sell section in ADDA (Buzzar) got an upgrade to the usage experience.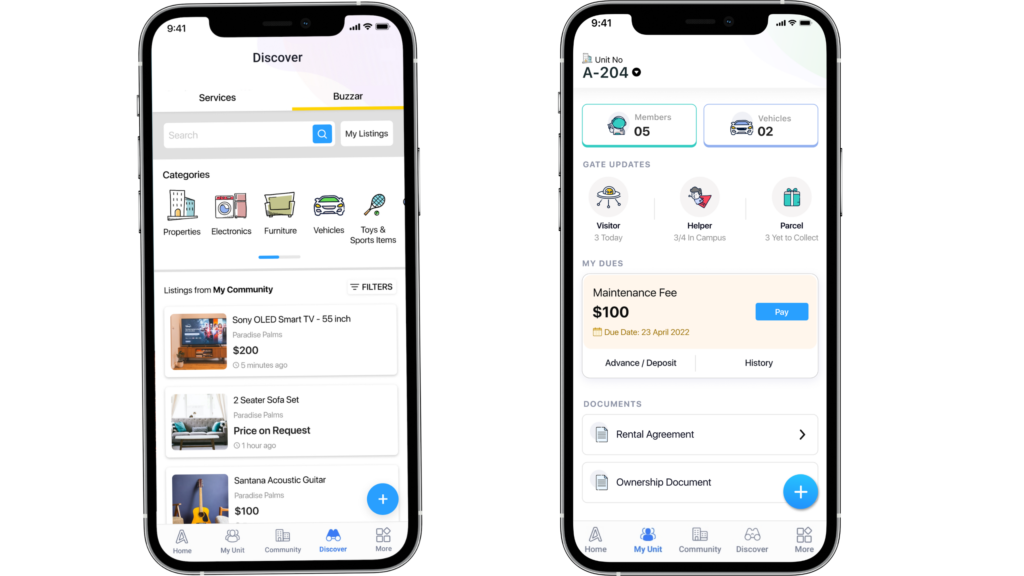 Same happened for other sections like MyUnit, the one stop destination for everything related to your home/property. These upgrades were targeted to remove few usability issues and give an enhanced usage experience.

iii. Launch of ADDA App in multiple languages
As we forayed into international markets, the need to give the App in multiple languages became imperative. While we launched the App in French and Arabic, we also built a powerful platform to launch ADDA App in any language within a timeframe of a week.
Shh! Something BIG is coming! ADDA App is coming up in a new Avatar! Look out for the News Soon!

2. Community Manager ERP Portal:
Two major areas of community management which got a lot of focus last year were Asset Management and Facility/Common Amenities booking. Here are some details:

i. Advanced Asset Management Features
There were quite a few significant enhancements to the Asset Management module – These extended from ability to tag each of your assets with QR codes for easy snag reporting to manage AMCs, to ability to control view and edit access of multiple vendors to the asset management system. You can read more details here.
ii. Advanced Facility management features & configurations
Most Communities pride themselves on their common amenities. However, it is often a nightmare to manage the usage of these in a fair and harmonious manner. We launched quite a few configurations and controls which would not only ensure fair usage but can turn your common amenities into revenue engines for your Community. Read more details here.

iii. Revamped Central Command Center
2022 was also the year when we became the preferred software provider for various Builders, Owners Association Management Agencies, and Property Management Companies who were managing multiple communities at the same time and hence needed a view into the performance of all those communities in one place. The Central Command Center (CCC) was meant to provide exactly that – The most impactful metric and Actionable insights from all Communities in one screen! Read more details here

iv. Other notable enhancements
The ability to setup Emergency Responders in each building/block so that quick help can reach the residents in need
App based Move In process – eliminating the need for physical document submissions, form filling, etc.
Ability to setup escalation in hours inside Helpdesk, ability to track first response time
And much more…
3. Community Manager App:
ADDA is probably the only product which has a dedicated and powerful Community Manager App. And this App got some major superpowers in 2022.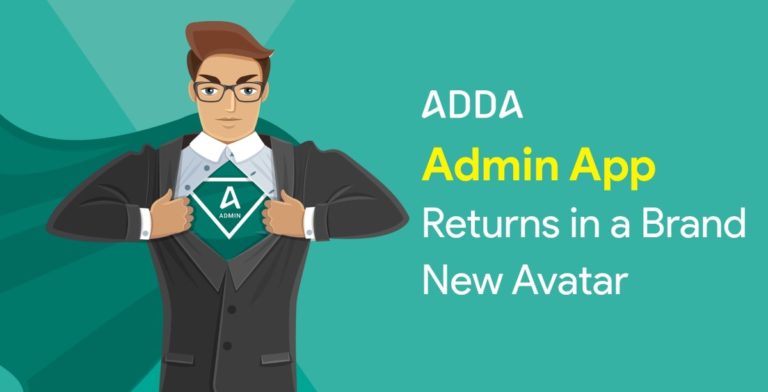 We re-wrote the whole app last year as the previous app was using an almost obsolete technology, making it difficult to provide enhancements. The new App was released in the first quarter of 2022, and over the year saw significant upgrades. This App now has 9+ modules for managing the community on the go, including Announcements Manager, User Management, Gate Management, Defaulter Management, Helpdesk, Purchase Requests, Meetings, Staff Management, Visitor Management dashboards, etc.

4. ADDA Books+:
We launched ADDA Books+, a comprehensive suite of Accounting tools which is now being used across multiple segments – including Co-Working, Co-Living, Commercial Complexes, etc.
Click here to see the offering in detail.
5. ADDA Branded Apps for Builders, Communities:
We have several Builders and Communities who have chosen to provide the ADDA App in their own branding to their residents. Several of these Apps, including some custom features, were launched over the last year.

6. ADDA Integration Platform:
In 2022, we took quite a few steps to establish ADDA as an Integrated IoT platform for Residential Communities. While ADDA remained the central nerve center, the APIs we built enabled other solution providers to integrate their systems with ADDA, and provide a combined smart solution to residential communities.

As a Builder, who wants to provide a red carpet experience to your prospects, you can directly add expected visitors into Gatekeeper App from your CRM Or if you already have an App or portal for your Owners/Tenants but you still want to use the best community management and accounting software, we have APIs for the same.

There are other APIs too which were built and enhanced, which work with various smart access control devices like ANPR or RFID-based boom barriers at Security Gate, Face recognition systems, and access control systems at Lifts, Clubhouses or any other locations inside a Community. Here is a list of a few of our APIs.
Phew! That's a wrap!
This year, as always, keep a lookout for releases throughout the year, as we stay committed to our goal of providing more convenience, transparency to Community Living, powering Happy Communities Globally!